The Missouri River is the longest river in North America. It stretches over 2,300 miles, beginning in Montana's Rocky Mountains and ending at its confluence with the Mississippi River. Its size and grandeur are matched only by its significance in American history, as it played a vital role in the Lewis and Clark expedition. Today, the river continues to captivate adventurers and anglers alike with its untamed beauty and exceptional fly fishing opportunities.
Forming at the confluence of the Madison, Jefferson, and Gallatin rivers at Three Forks. The upper Missouri River river extends from Holter Dam down to Cascade, a distance of approximately 35 miles. The section near Wolf Creek is characterized by stunning scenery, shallow flats, long riffles and deep pools. The river flows through a broad valley, providing anglers with expansive views of the Big Belt mountains.
Fly Fishing the Missouri River near Craig
Further down river to Craig boasts an impressive trout population around 8000 trout per mile. Craig is the epicenter when it comes to fly fishing the Missouri River. Guides, drift boats, fly shops, lodging and dining makeup this little trout town. A few miles below Craig begins the canyon stretch with stunning volcanic rock formations and towering cliffs. Once out of the canyon you'll encounter half breed rapids flowing out to the wide open spaces to Cascade. Cascade, another little trout town along the Missouri offering anglers everything they may need on and off the river.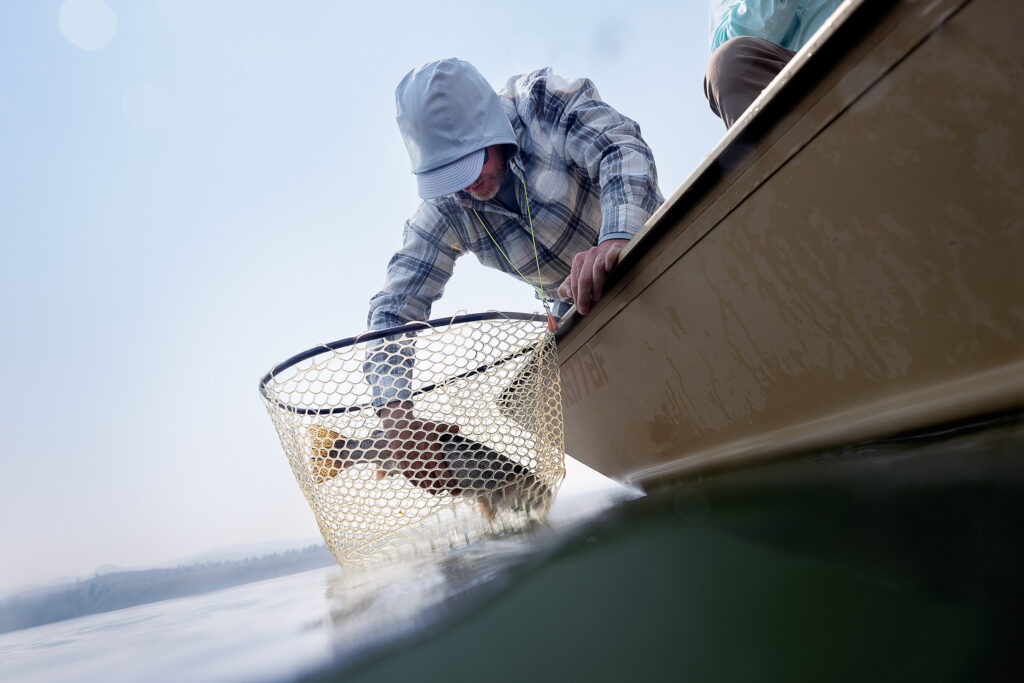 The Land of Giants Section of the Missouri
The Land of Giants section of the Missouri River is just a short drive from Helena and runs from Hauser Dam down to Holter Lake. This stretch river is a world class trout fishery! The Land of Giants is home to incredibly large Rainbow trout. It is not uncommon to catch fish in the 22-24″ range with fish up to 30 inches on occasion. In addition, The Land of Giants provides Montana anglers with opportunities at Kokanee salmon during the fall months. While their are some wadding opportunities this stretch of river is best fished by jet boat with a licensed captain.