Fly Fishing the Madison River
The Madison is a world-renowned Blue Ribbon trout river located in southwestern Montana. With its clear water, abundant wildlife, and diverse fish species, it's no wonder why the Madison river attracts anglers from all over the world. The Madison is known for its superb trout fishing, particularly rainbow trout and brown trout. If you're an avid angler looking for your next fishing adventure, then fishing the Madison River should be at the top of your list.
Seasons on the Madison
A year-round fishing destination, but the best time to fish depends on the type of fishing you're looking for and your tolerance for cold. Springtime is an excellent time to fish just before run off. Summer is the peak season for fishing on the Madison River, with consistent hatches of mayflies, caddisflies, and stoneflies. The Maddison is an excellent hopper river. If pounding the shorelines with big foam flies is your thing the Maddison is a must do. Fall is an excellent time to fish for brown trout as they start to moving into their pre spawn routines, and the river becomes less crowded. Winter is an excellent time for fishing on the Madison River if you're looking for solitude, but be prepared for cold weather conditions.
Sections of the Madison River
Stretching for over 140 miles, from its headwaters in Yellowstone National Park to its confluence with the Jefferson River. There are many different sections of the river that offer excellent fishing opportunities, but the most popular sections are the Upper Madison, the Lower Madison, and the Madison in Yellowstone National Park.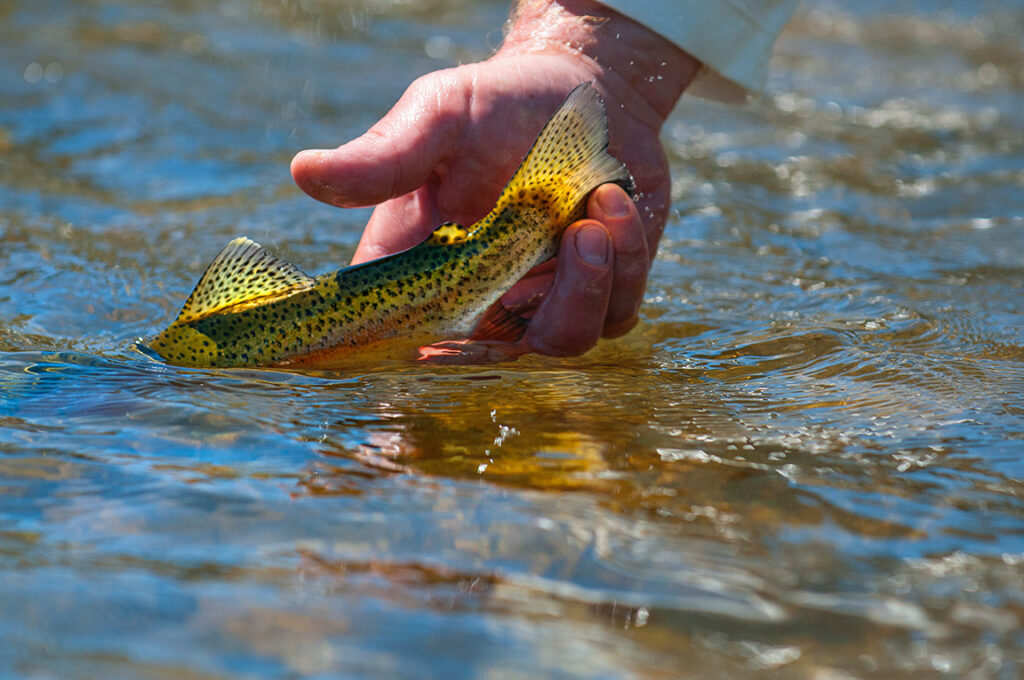 The Upper
Located between Quake Lake and Ennis is known as the 50 Mile Riffle is a sight to behold. This section starts in Yellowstone National Park and runs for about 19 miles to the town of Ennis, Montana. It is known for its scenic beauty and abundant trout population, including rainbow, brown, and cutthroat trout. The Upper section was one of the first rivers in the west that was catch-and-release only.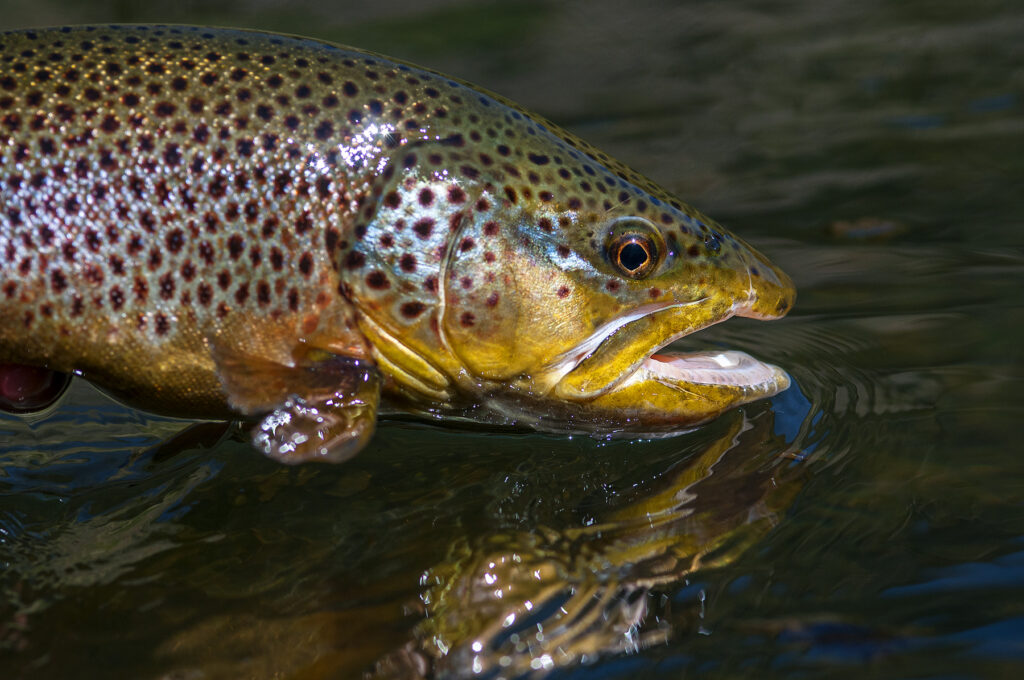 Lower Madison
This section runs for about 53 miles from the town of Ennis to the confluence with the Jefferson River. Known for its deep pools and slower-moving water, making it an excellent location for float fishing. It is known for its large brown trout and abundant rainbow trout, as well as its scenic beauty.
What to Expect When Fly Fishing the Madison
When fishing the Madison River, you can expect to encounter a variety of fish species. Rainbow trout, brown trout, cutthroat trout, and mountain whitefish. The hopper fishing on the Madison in the summer months can be world class. The river is also home to a variety of wildlife, including bald eagles, elk, moose, and bears.
Hatches On the Madison River
Blue-winged Olives (BWOs): These small mayflies hatch throughout the year, but their peak hatch is in the spring and fall. BWOs can be found in sizes 16-20 and are known for their small size and subtle rises.
Pale Morning Duns (PMDs): PMDs are another mayfly that can be found on the Madison River in the summer months. They range in size from 16-20 and are known for their yellowish-green color.
Salmonflies: These large stoneflies are a favorite of both anglers and trout alike. They hatch in early summer and can be found in sizes 4-8. Salmonflies are often fished with large, dry flies or nymphs.
Golden Stones: Another large stonefly, Golden Stones hatch later in the summer and can be found in sizes 6-10. They are often fished with dry flies or nymphs.
Caddisflies: The Madison River has a variety of caddisflies, including green, tan, and black varieties. They can be found in sizes 14-18 and are often fished with dry flies or nymphs.
In short, fishing the Madison River is an unforgettable experience for any angler. Stunning scenery, diverse fish species, and excellent fishing opportunities, it's no wonder why it's considered one of the most popular trout fishing destinations in the world.