Rainbow Trout
The rainbow trout is native to the Pacific Northwest region of North America, but it has been introduced to Montana. Rainbow trout thrive in cold, clear water, and Montana's rivers and streams provide ideal habitat for them. These fish are known for their spirited fight, often displaying impressive acrobatics and can grow to be large, with some over 30″ on the Land of Giants section of the Missouri River.
The Montana rainbow trout is renowned for its stunning appearance. Its body is adorned with a myriad of colors, ranging from vibrant reds and pinks along its sides to a distinct purple hue. The iridescent scales shimmer in the sunlight, creating a mesmerizing display as it glides through the water. The combination of these colors gives the Montana rainbow trout a unique and unmistakable presence.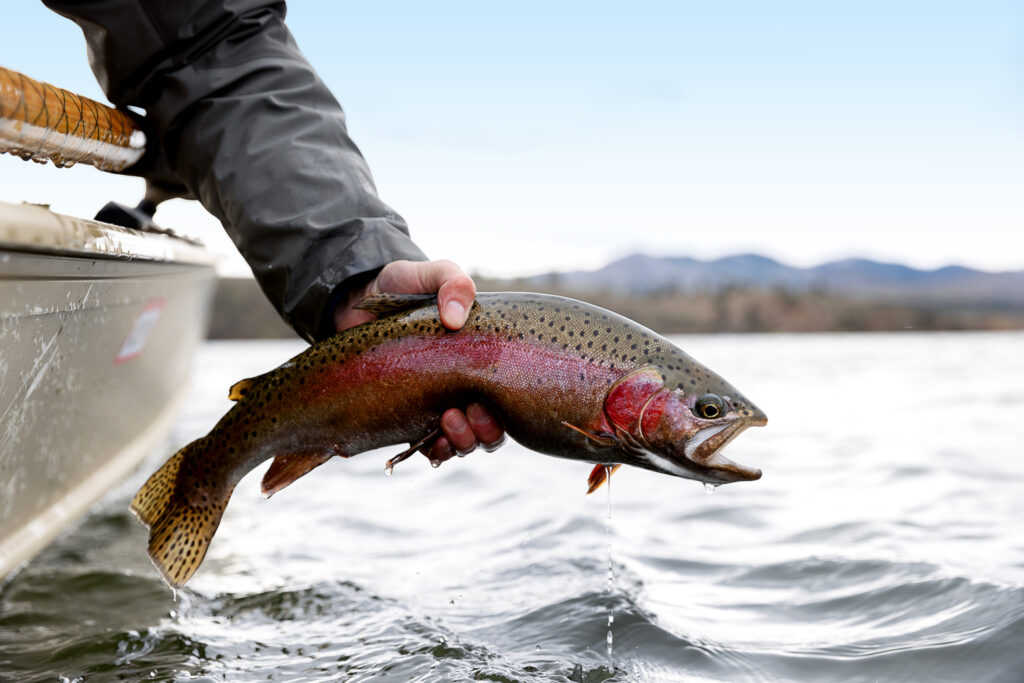 Brown Trout
Brown trout were first introduced to Montana in the late 1800's and have since become established throughout much of Montana. They are highly sought after by fly anglers for their fighting ability and their tendency to feed aggressively. Brown trout can thrive in small streams where they may only reach a few inches in length to large rivers and lakes where they can grow to over 30 inches long. They have beautiful coloring that can vary depending on its environment. Browns typically has an olive-brown back with yellowish sides and a creamy or white belly depending on their habitat and diet.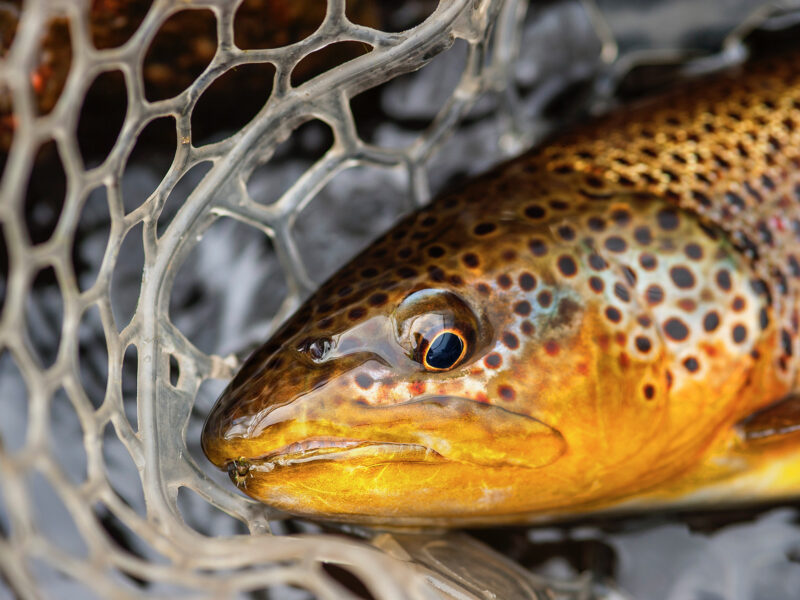 Cutthroat Trout
Cutthroat trout are a species of freshwater fish that are native to western North America, including Montana. There are several subspecies of cutthroat trout that can be found in Montana's rivers, including the Westslope and Yellowstone cutthroat. Cutthroat Trout have a distinctive appearance. Dark spots on its back and sides and a red, orange, or pink slash mark under its lower jaw. Typically growth between 10 and 20 inches in length, but can reach up to 30 inches in some cases.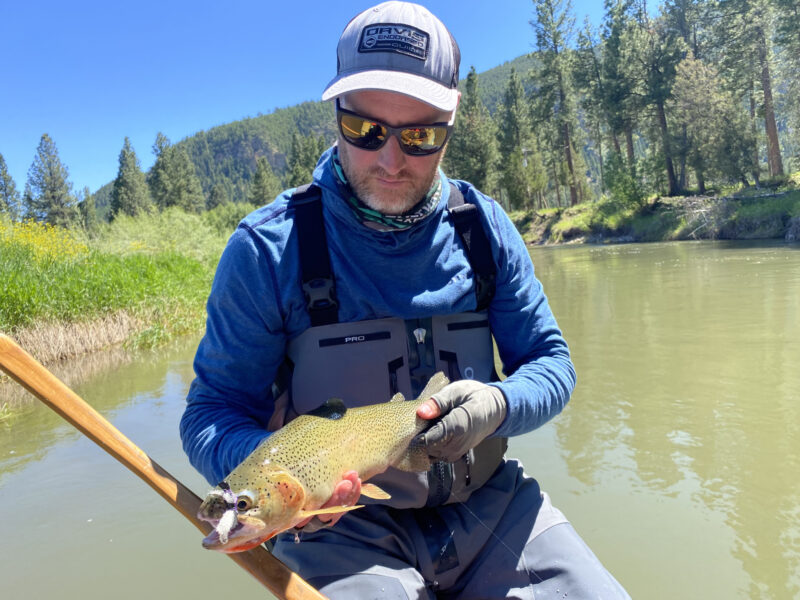 Kokanee Salmon
Kokanee are a landlocked form of sockeye salmon spending their entire lives in freshwater, unlike their anadromous relatives who migrate to the ocean. They are a popular game fish and are known for their vibrant red coloration, which intensifies during spawning season. We target these fish in the fall months on the Land of Giants section of the Missouri River.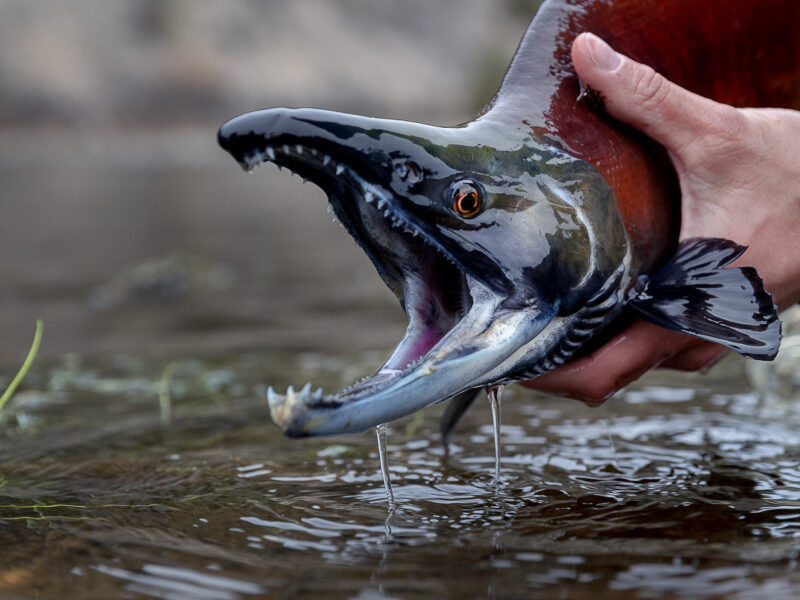 Montana Bull Trout
The Montana Bull Trout is typically found in cold, clear Rivers and streams like the Big Blackfoot. They are known for their large size, with adults commonly reaching lengths of 20-30 inches and weights of 5-10 pounds. They have a distinctive appearance. A broad head, large mouth, and spotted body that ranges in color from olive-green to blue-gray.
Montana Bull Trout are a threatened species and have limits and restrictions in place for their protection. Habitat loss, and competition with non-native fish species have had a negative impact on populations. Bull trout are also vulnerable to warmer water temperatures and reduced stream flows, both of which can affect their survival. Conservation efforts for Montana Bull Trout include habitat restoration, reintroduction programs, and fishing regulations designed to protect the species.
Brook Trout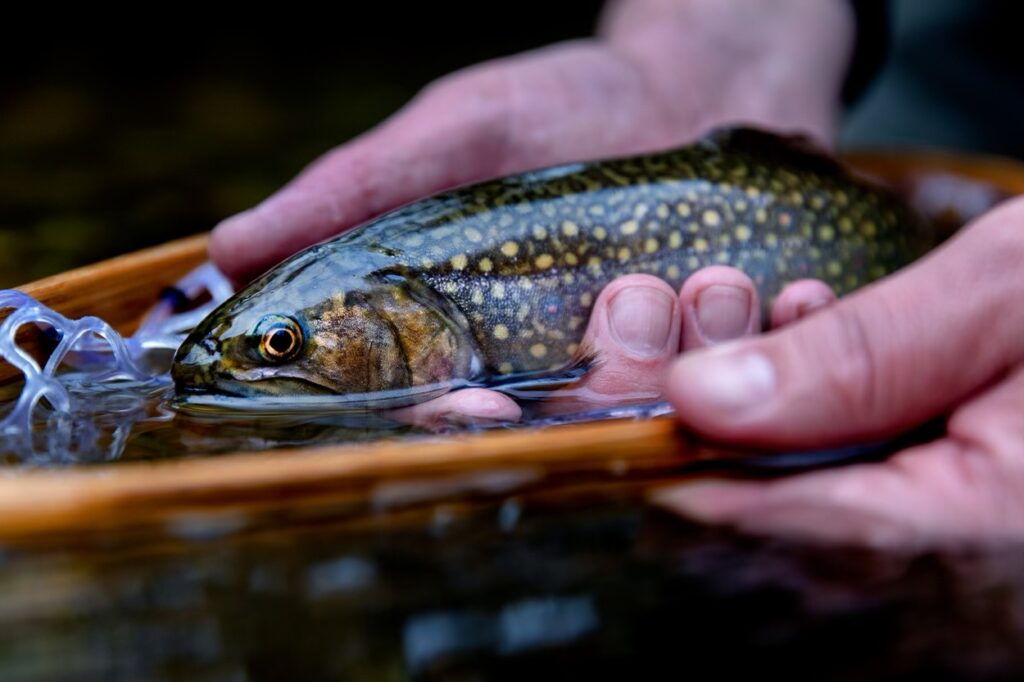 Brook trout are known for its vibrant colors and feisty nature, the brook trout is a treasured species that thrives in the crystal-clear waters of Montana's mountain streams and lakes.
With its distinctive pattern of red dots surrounded by blue halos on a background of olive-green and gold, the brook trout is a sight to behold. Its fins are adorned with white edges, adding to its allure as it gracefully navigates the swift currents.
Montana provides an ideal habitat for brook trout, with its pristine rivers and creeks fed by snowmelt from the Rocky Mountains. These cold, clean waters are essential for the survival of this cold-water species. From secluded alpine lakes to meandering streams that wind through valleys, brook trout can be found in various locations across Montana.