The Missouri River from Holter Dam to the town of Cascade is a dry fly fishing paradise. And we believe it offers some of the best dry fly fishing in all of Montana. This world class stretch of river offers prolific hatches, crystal clear water and approximately 8000 trout per mile. Let's take a closer look at this world-class fishery and provide some tips and information about dry fly fishing on this iconic river.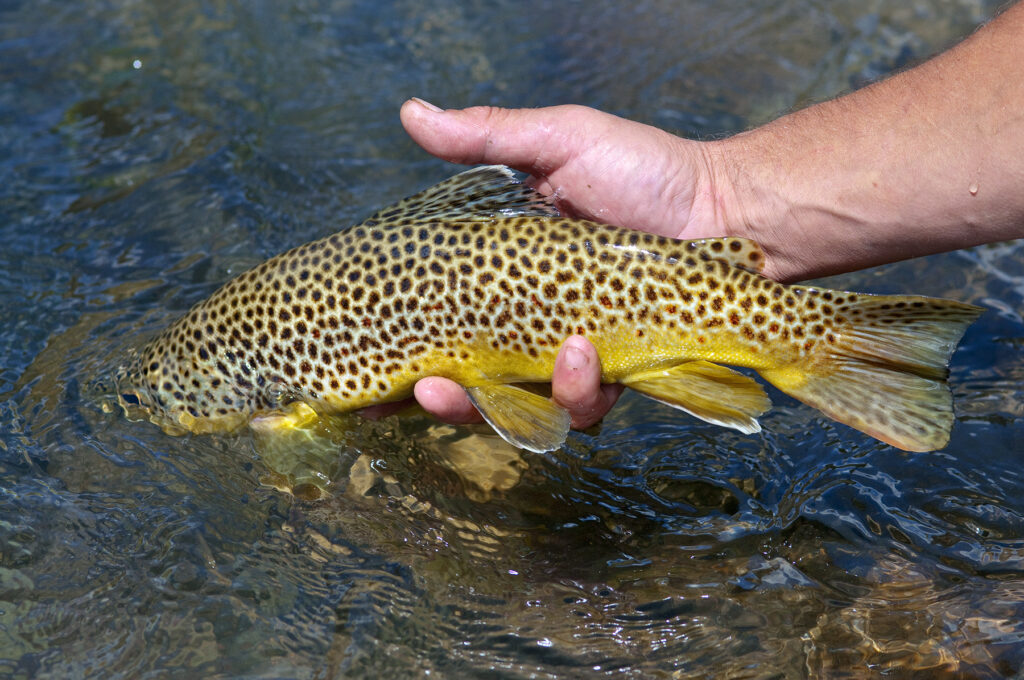 Fly Hatches on the Missouri River
The Missouri River is best known for its prolific hatches, which can occur throughout the year. Some of the most notable hatches include:
Midges: Midges are small flies. They are a vital food source for brown and rainbow trout all year round. However, they are even more essential during winter and early spring. On the best days anglers can see blankets of these small insects on the water.
Blue-winged Olives: The Blue Winged Olive, or BWO, is another essential dry fly pattern for the Missouri River. This fly imitates the small olive-colored mayflies that hatch throughout the year, particularly during the spring and fall. Sizes 16 to 22 are common for BWO patterns.
Pale Morning Duns: PMD hatches are prolific on the Missouri River. Sizes 16 to 18 are ideal for imitating the PMD hatch. It is important to have different stages of the insect in your fly box, such as emergers, cripples and spinners. The PMD hatch is my personal favorite hatch on the MO.
Caddisflies: Caddisflies are prevalent on the Missouri River and can provide exciting dry fly action. Known for their distinctive tent-shaped wings and are found in various sizes, colors, and species. They typically hatch throughout the summer season, with peak activity occurring in the evenings.
Tricos: Known for their massive swarms and big spinner falls can create a feeding frenzy among trout on the Missouri. Trico flies used for trout fishing are often small (20 to 22). They usually have a black or gray body and clear wings. This imitates the spent spinners that trout like to feed on. These small mayflies can provide some of the best and most frustrating dry fly fishing of the year. Once the spinner fall happens, pods of rising trout can be found scumming and gulping in the slicks. When a trico hatch goes off it can often look like the river banks are smoking with clouds of these small flies buzzing around.
Hoppers: During the summer months, grasshoppers become a significant food source for trout on the Missouri River. We carry a range of realistic hopper patterns in sizes 8 to 12. These can be used to entice large browns and rainbows to take the fly off the surface. It can be thrilling watching a big trout crush a hopper! Focus on fishing these flies near grassy banks or areas where hoppers may accidentally fall into the water.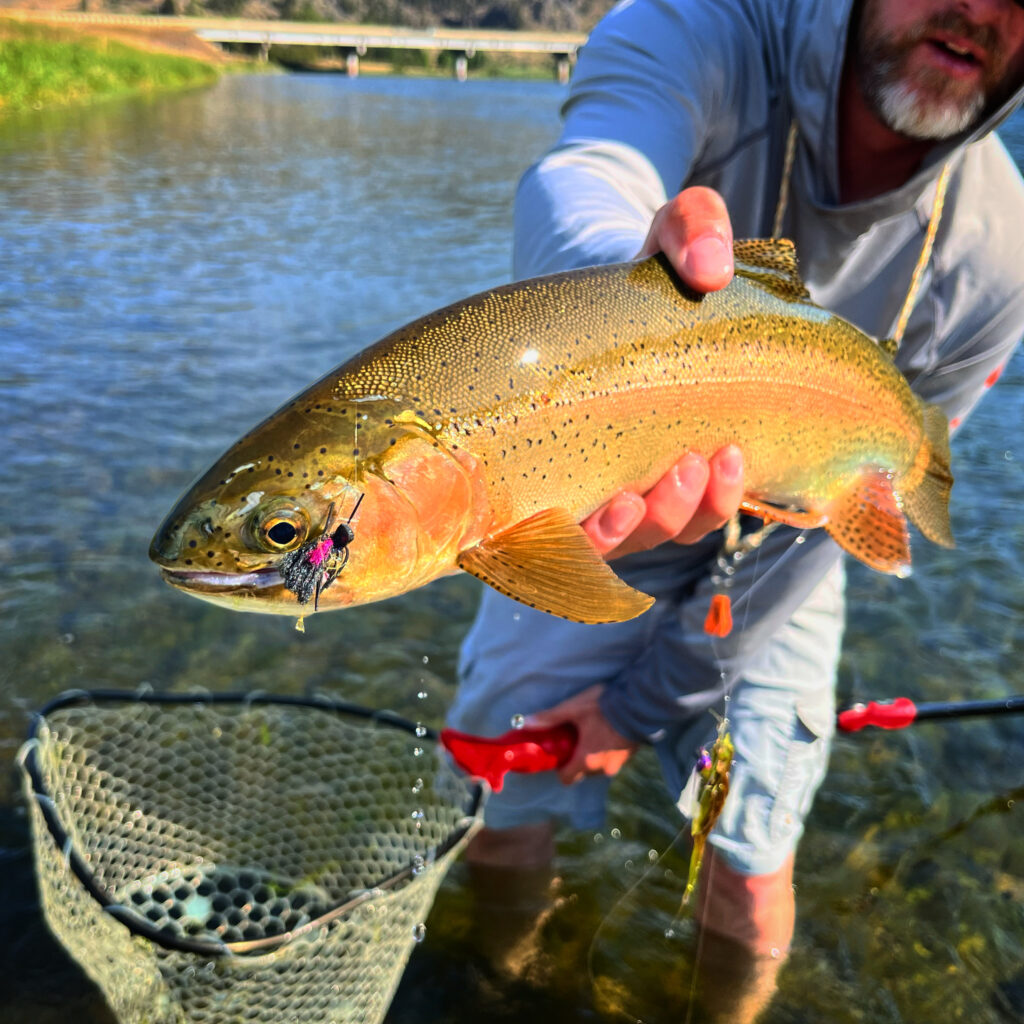 Dry Fly Patterns for the Missouri River
Matching the hatch is not essential when dry fly fishing on the Missouri River but some cases require it. Make sure to have few of these Missouri river staples in your fly box.
Parachute Adams: Parachute Adams is a variation of the Adams fly. It features a parachute hackle, making it more visible and buoyant when in the water. The Adams fly is especially successful during mayfly hatches. Its profile makes it a great choice for catching the picky trout of the Missouri. I use a black sharpie on a few of the posts for those high glare days. Sizes #12-18
Pale Morning Dun Imitations: Fly patterns that ride low in the surface film are important when fishing with Pale Morning Dun. These patterns include spinners, cripples, and emergers. These are key to successfully fishing in this tailwater. The High Vis spinner, Trusty Rusty Spinner, Film critic, and Sparkle Dun are solid choices. Sizes #16-18
Caddis Patterns: Blooms caddis, Corn Fed Caddis, Elk Hair Caddis, and the X caddis. These three patterns are proven for dry fly fishing the Missouri river. Sizes #14-18
Griffith's Gnat: This small fly imitates midge clusters and can be deadly all season long. #16-22
Hoppers and Ants: Low riding hoppers and ants are not only fun to fish on the Mo but very effective. Morrish Hopper, Parachute ant and small Chubbies in sizes #8-12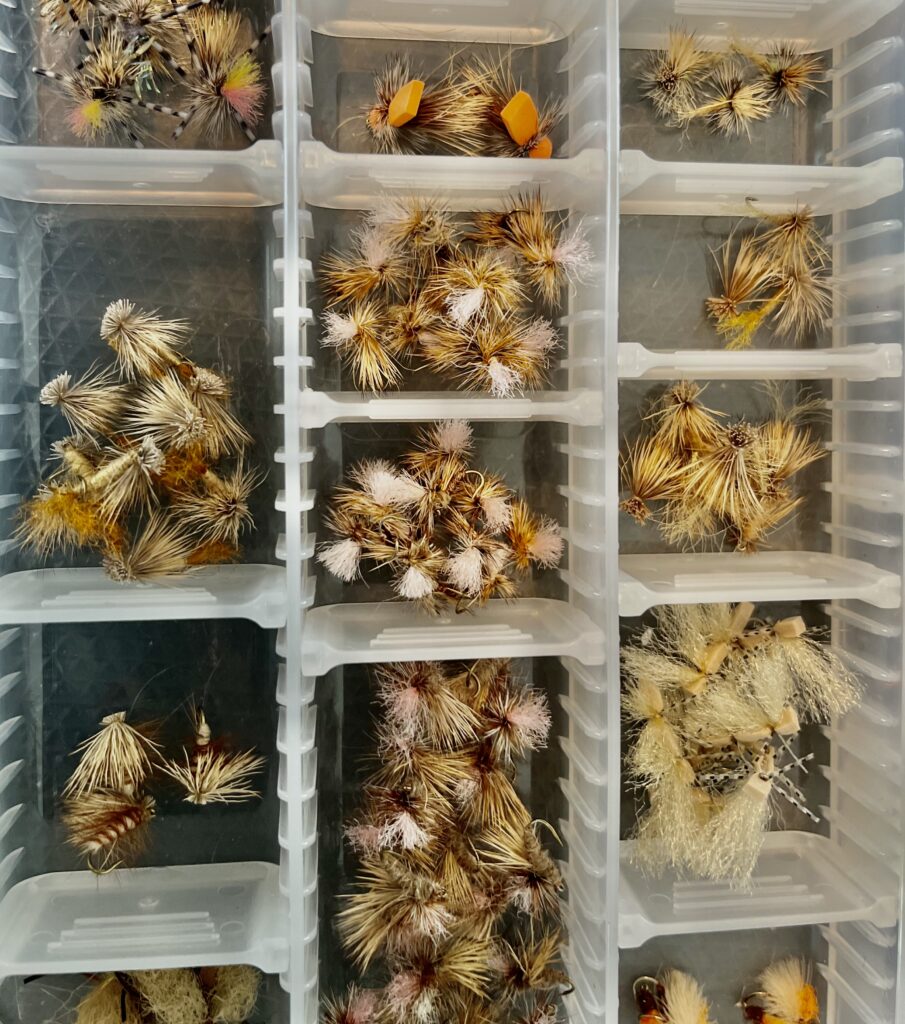 Fly rods and Reels
Dry fly fishing on the Missouri River requires precise and delicate presentations. A crisp 9-foot fly rod in a 5 weight is ideal for this application. I really like the Sage LL or the Orvis H3F. Reels should have smooth drag systems with no startup inertia. This is important when using fine tippets with small flies in sizes 18-20. Missouri river trout are strong and will test your gear. A 9-12 foot tapered leader to 4X or 5X tippet is a good start for most situations. When fishing from a drift boat we're fishing fly first so no reason to go any longer than 12 feet on most days.
5 Tips when Dry Fly Fishing the Missouri River
Sit down! Seriously, the fish can see you. For this very reason I and most guides have removed the front leg braces from their drift boats.
Make the first cast count. Cast at the fish using a reach cast. The further the fly lands from the fish the harder it is to keep the fly floating and manage the drift.
Time the rise form. This may sound extreme but some days these fish have a cadence to their rise. Try to time it. Casting the fly in the fish's lane and timing the fish's rise can really make a difference.
Clean your Fly line. This is an easy task that can make a huge difference in your dry fly game. Clean lines float, mend and cast better.
Move on. If the fish are not picking up what you're putting down. Leave. Go find another pod of fish.
Dry fly fishing the Missouri River can be a thrilling and rewarding experience for any serious fly angler. With the right preparation, techniques, and location, you can increase the number of fish you put in the net.