Hell's Bay Professional
The fish-ability and performance of Hell's Bay Professional is like no other skiff I've been on. Having spent thousands of hours in various boats and skiffs, I can honestly say the Pro is the best skiff for South Carolina's technical fishery.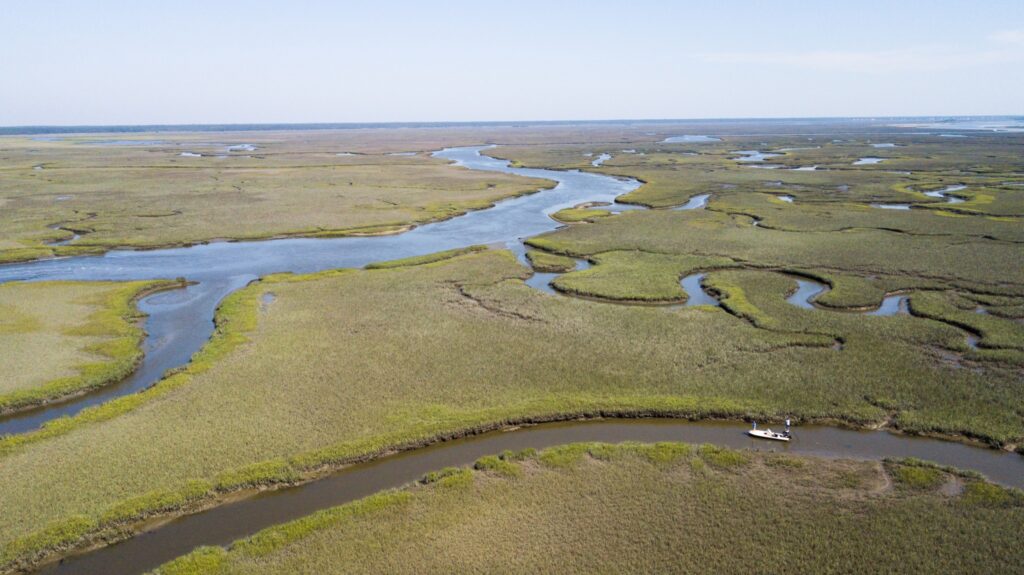 The World's Finest Skiffs
After many months researching on the internet and talking with other hardcore anglers/guides about the quality of these boats, I had to investigate further. One thing I couldn't help but notice was some of the best guides in the world were all operating out of Hell's Bay Boats. Coming out of my second Maverick Mirage, I needed a skiff that drafted much less. My next skiff had to be lighter, easier to pole, have more dry storage, drafted less than 6″ of water and safely handle open water. I narrowed my search down to a Hell's Bay Professional or a Waterman, which are advertised to draft 4.5″ loaded.
Wet Testing
I fished a Flood Tide out of the Professional and was blown away by the capabilities of this boat! Crossing a large bay that was stacked up with two footers comfortably and then poling in just inches of water with three grown men, I knew the Pro would be the perfect fit for me and my clients. As luck would have it, I had the opportunity to buy a close to new Hell's Bay Professional from a friend and fellow guide who was looking to move into a bigger skiff to accommodate his evolving fishing style.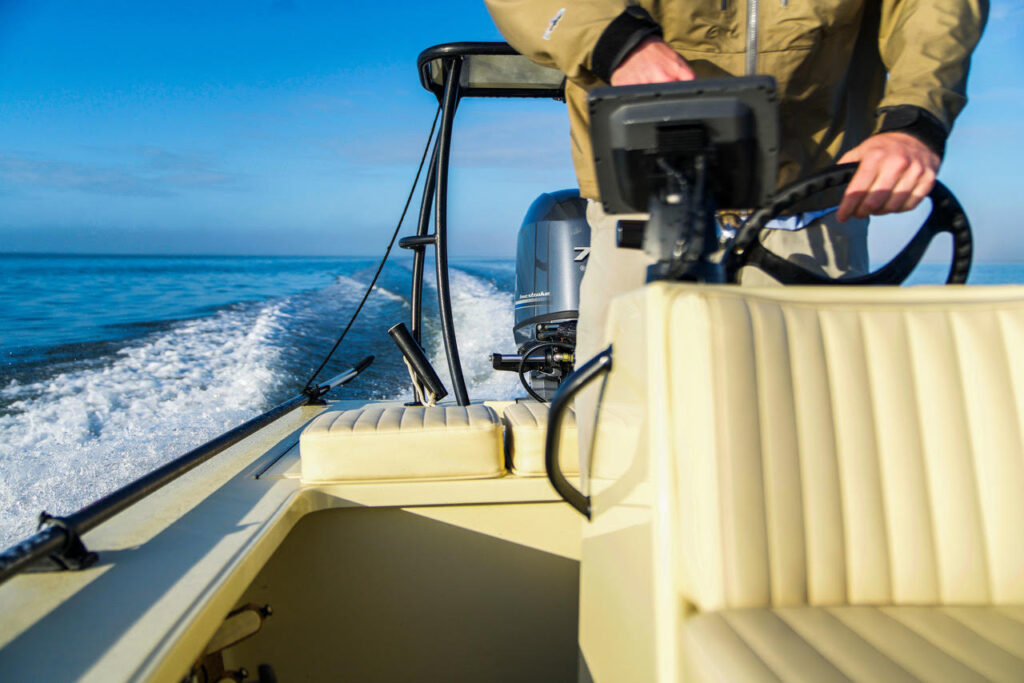 Hell's Bay Professional Build
Hell's Bay Boatworks builds these high tech skiffs by hand using products from the Aerospace industry. Carbon/Kevlar, high density foam and vacuum infused resin are the key ingredients in keeping these skiffs strong and lightweight. The fit and finish of these boats are truly first class. I've been told more man hours go into Hell's Bay boats than Bentley cars. The attention to detail and how well the skiff is laid out is what really sets these boats apart. Every lid and compartment is finished with Awlgrip from the inside out. Blood and stains clean up easy after a long day on the water. Clean rigging and wiring makes maintenance and trouble shooting any problems much easier. Standard accessories like Livorsi navigation lights and Sea Star hydraulic steering, matched with an Edson wheel, really take this skiff to the next level!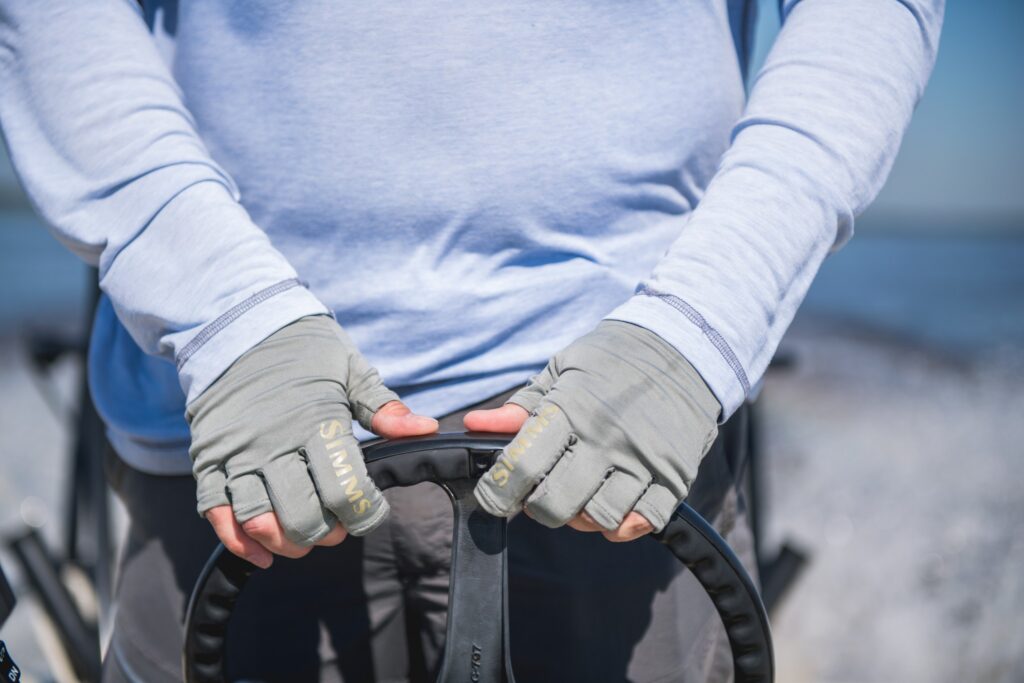 Hell's Bay Professional Specifications and Performance
At 17'8″ and 625 pounds this skiff is remarkably lightweight. The Yamaha F – 70 weighs 247 lbs which is a nice power-to-weight ratio and will push me around 35-37 M.P.H. The Professional is a sponson boat which keeps the stern floating high and makes for a very stable platform. The 73″ beam leaves a very small footprint at the water line allowing the angler and guide to silently pursue Redfish in the shallowest of water. I navigate a variety of different waterways from bays to technical creeks and the Professional handles like a race car! The oversized spray rails coupled with the sharp entry at the bow cuts through heavy chop like butter. Although this skiff does require the use of trim tabs in most conditions she's very dry and soft riding for such a technical skiff .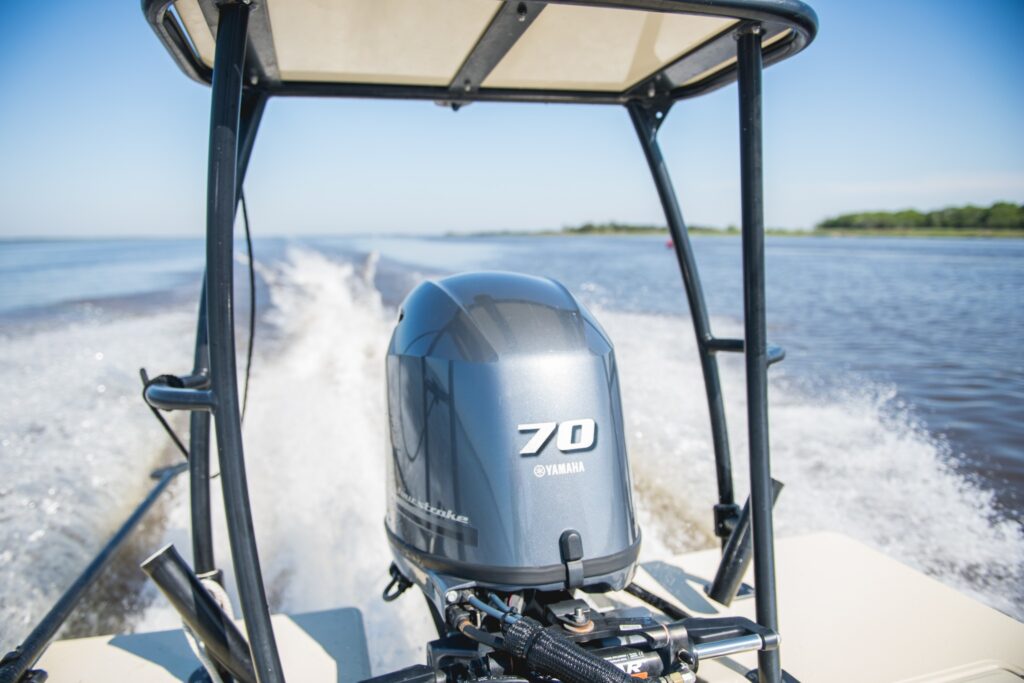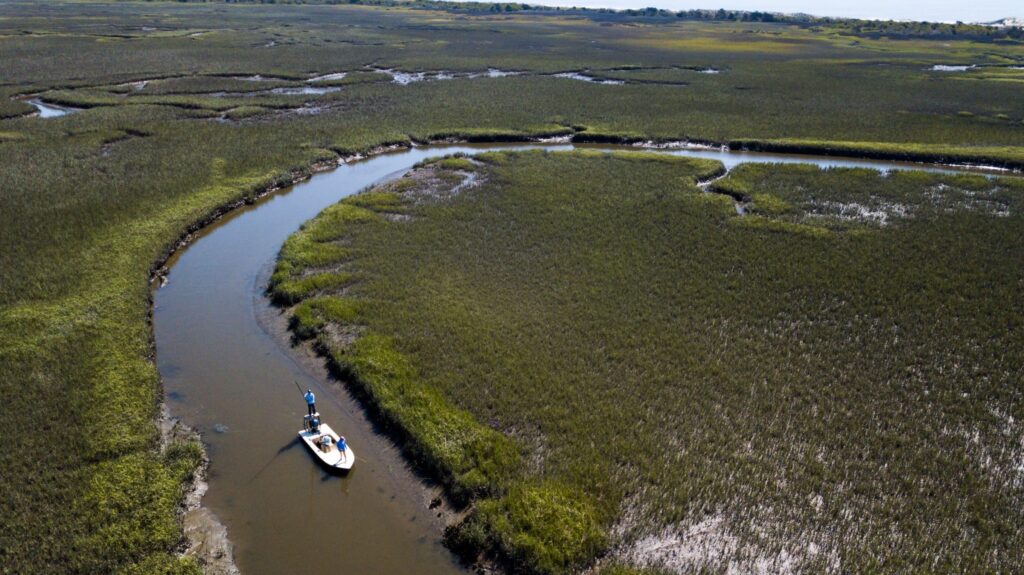 Hells Bay Deck Layout
The deck fore and aft is super clean. Under gunwale rod storage to the left/right holds ample fly and spinning rods for a full day on the water. It has huge walk-able gunwales and a massive front deck. The front deck is much larger compared to my previous skiffs. Easily accommodate two spin anglers, casting plugs, or lures. The entire front deck is snag free with plenty of room for a stripping bucket and raised casting platform for my Fly Fishing clients.
Cooler Seat
The built-in jump seat is very comfortable and doubles as a cooler with built-in drain plug. The cooler is double insulated and keeps ice and drinks cold for a full day on the water. The most notable difference I see with this skiff is the stability. Above all when walking around the boat or landing fish the skiff is solid! which is great for clients who are not used to being on small boats.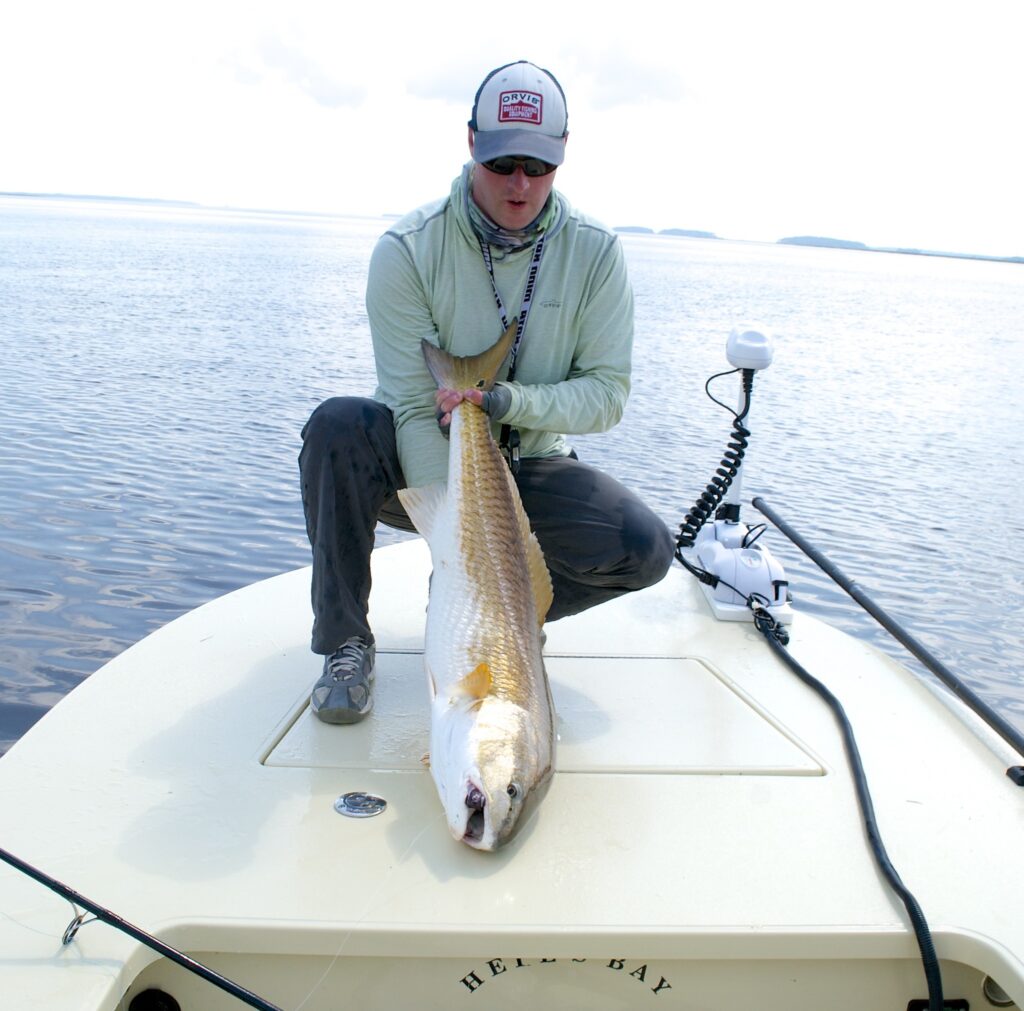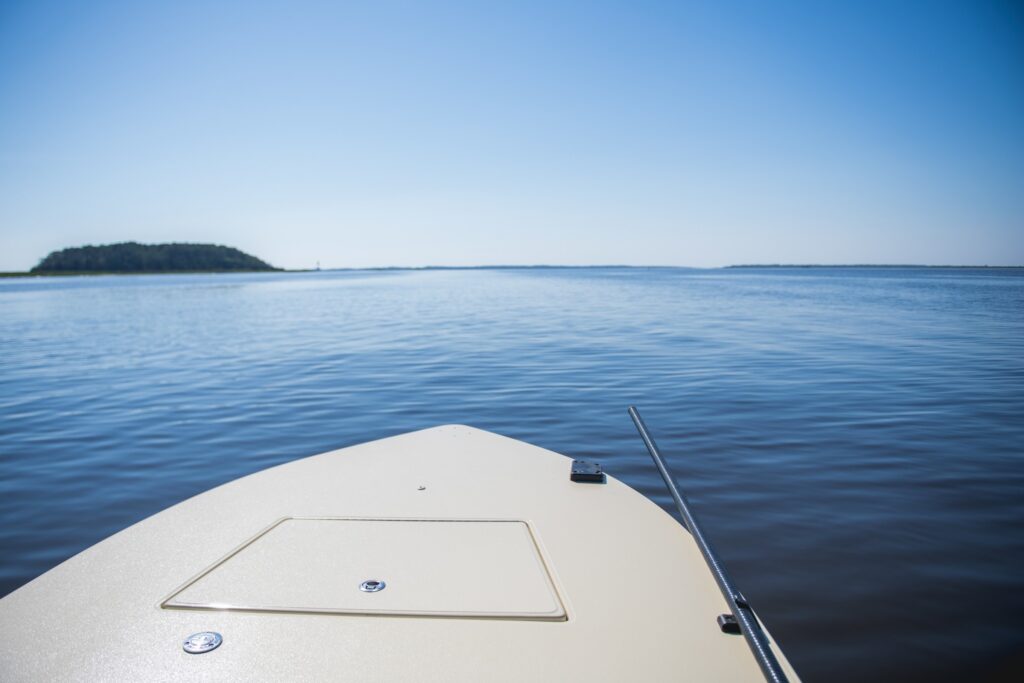 Dry Storage on the Hells bay
Storage always seems to be an issue for me as I tend to carry more than I need. There's an impressive amount of dry storage on the Pro. Two large hatches in the rear which I use for my tackle bag, fly boxes, camera and anchor. The boat seems to perform the best with weight back and on the starboard side. A large live-well is centered perfectly between the port and starboard hatches. I use live bait from time to time and the semi-circular tank keeps bait feisty all day. Additionally, the bow storage is massive! Beneath the front hatch I keep two large deep cycle batteries that power my 80 lb thrust Minkota I Pilot. Even with two large batteries up front there's still ample storage in the bow. I stow all my safety gear and any personal items clients may bring with plenty of room to spare.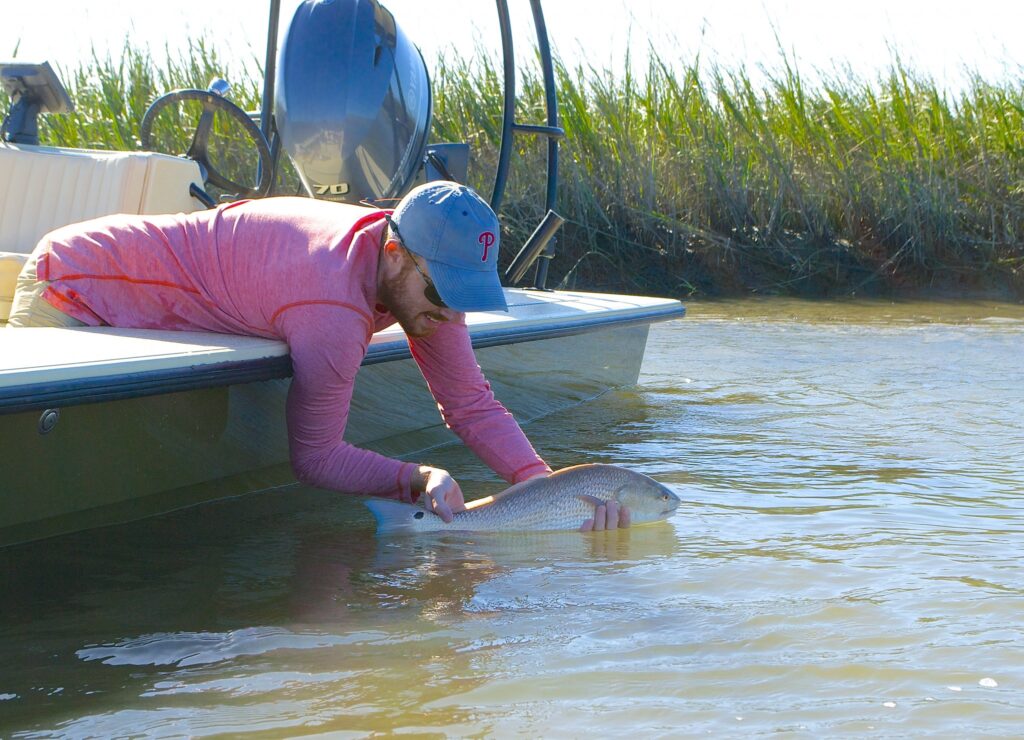 Dry Launch Ramlin Trailer
Hell's Bay uses Ramlin dry trailers. I absolutely love the dry launch trailer! Dunking my skiff in saltwater hundreds of times a year takes a toll on bearings, hubs, hardware and the lights. The dry launch solves all the issues that come from dunking the trailer in the saltwater. The dry launch trailer is super easy to launch and load. Simply back the trailer till the tires touch the water line and gently push the skiff off. The Ramlin features walking boards down the side so you can walk the boat off as well. Spraying the bunks with liquid rollers every couple trips helps to keep it sliding off with ease.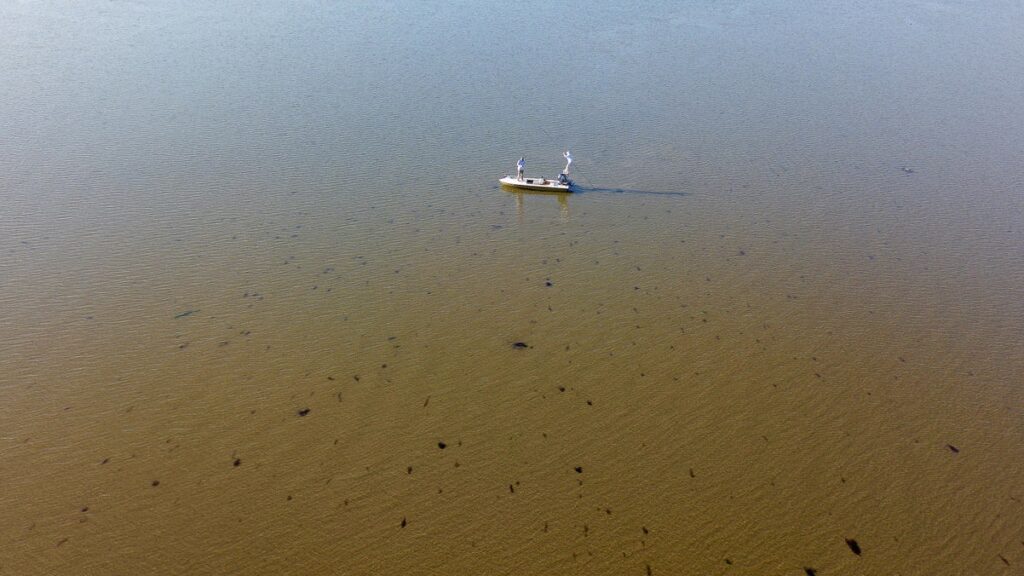 I'm often approached at the gas station by fellow fisherman complementing on the lines and color combination of the skiff.