Fishing enthusiasts visiting Myrtle Beach, South Carolina, are in for a treat. With its miles of coastline, abundant marine life, and a variety of fishing options, Myrtle Beach offers a fantastic experience for anglers of all levels. Understanding the tides is crucial for successful fishing in Myrtle Beach. The tidal currents influence baitfish movement and, consequently, attract predatory fish. While the exact best time can vary depending on the species you're targeting, a general rule of thumb is to fish during the incoming tide, as it brings in food and stimulates feeding activity.

Spring Fishing Around Myrtle Beach

Spring along the Grandstrand is a transitional time. The cold water begins to warm and the bait fish slowly make there way in to our estuary. The fiddler crabs feel the warmth and start surfacing from the pluff mud. The spring is the best time to catch blue crabs in South Carolina for bait. Blue Crabs begin the shedding (molting) process making Redfish hyper focused on eating soft shell crabs and nothing else. Schools of Redfish begin breaking up and settling into warm water patterns. Flounder will start moving in to our estuaries following the warmer water. Speckled Sea Trout will move out the deeper water and river systems in to shallower waters. Fishing in the spring can be red hot or very challenging.
Summer Fishing Charters



Summer is one the best times to fish Myrtle Beach, Pawleys and Georgetown. Warm waters bring seasonal and tropical species. Redfish, Trout ,Lady Fish, Tarpon, Sheep Head, Black Drum, and Sharks can all be targeted in the summer months. Summer in South Carolina the water can be downright hot so time of day and tides will dictate the best fishing. Early morning and late evening low tide cycles can be very productive Fly Fishing or casting artificial baits. Our favorite fishing during summer are evening flood tides or Tailing Tides. We study the tide charts and moon phases months in advance waiting for "flood tides". We experience abnormally high tides during the full and new moon phases which flood our grass flats. Redfish love to get up on to these shallow flats and "tail" looking for fiddler crabs. Fishing the flooded Spartina grass is more like hunting than fishing. A stealthy approach and well placed fly or lure is the key to success on the flats.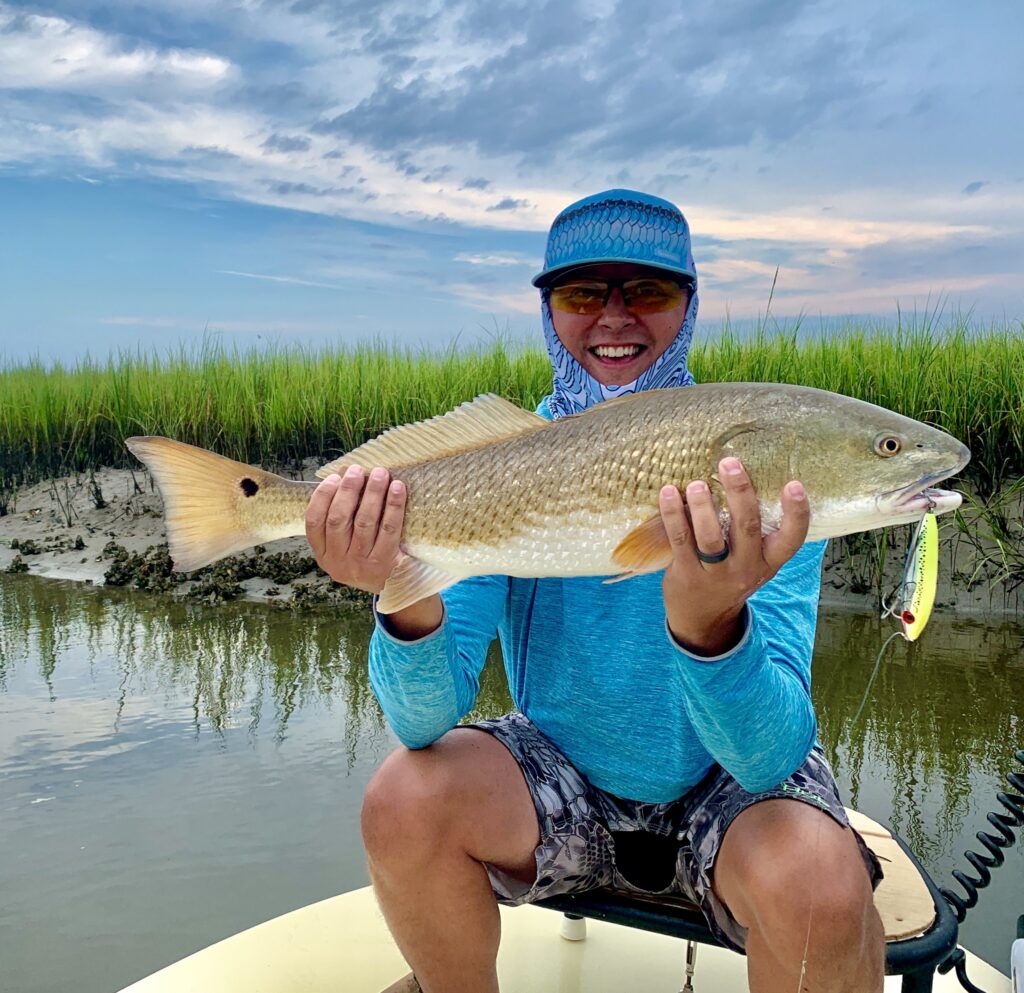 Fall Fishing

Charters in Myrtle Beach
Fall in the South Carolina is without a doubt the best times to fish Myrtle Beach and surrounding areas.The abundance of bait coupled with cooler water temperatures the fish begin to gorge themselves. Large Redfish and Speckled Sea Trout begin to gather in schools often found feeding under birds or chasing shrimp in shallows. These scenarios provide excellent sight fishing opportunities for those who enjoy sight fishing. Fall without a doubt is a magical time.
Winter Fishing Charters along Myrtle Beach
Winter is when the large schools of Redfish form and the water turns gin clear. Fishing the winter months Redfish can be very selective and spooky. We focus around afternoon low tides as the shallow water warms with the high sun. Paying close attention to tide charts in the winter is key. With Redfish gathering in schools of 10-50 fish it can offer very exciting sight fishing opportunities. Accurate casting and Stealth is paramount this time of year.
Remember to check local fishing regulations, acquire the necessary licenses, and practice responsible angling techniques to ensure the sustainability of the region's marine ecosystem. So, plan your fishing adventure, pack your gear, and get ready to experience the thrill of fishing in Myrtle Beach.