One of the best ways to experience Montanas many rivers and streams is from a drift boat. Whether you are an experienced angler or a novice, a fishing trip from a drift boat can be a relaxing and unforgettable experience.
Tips for Fishing from a Drift Boat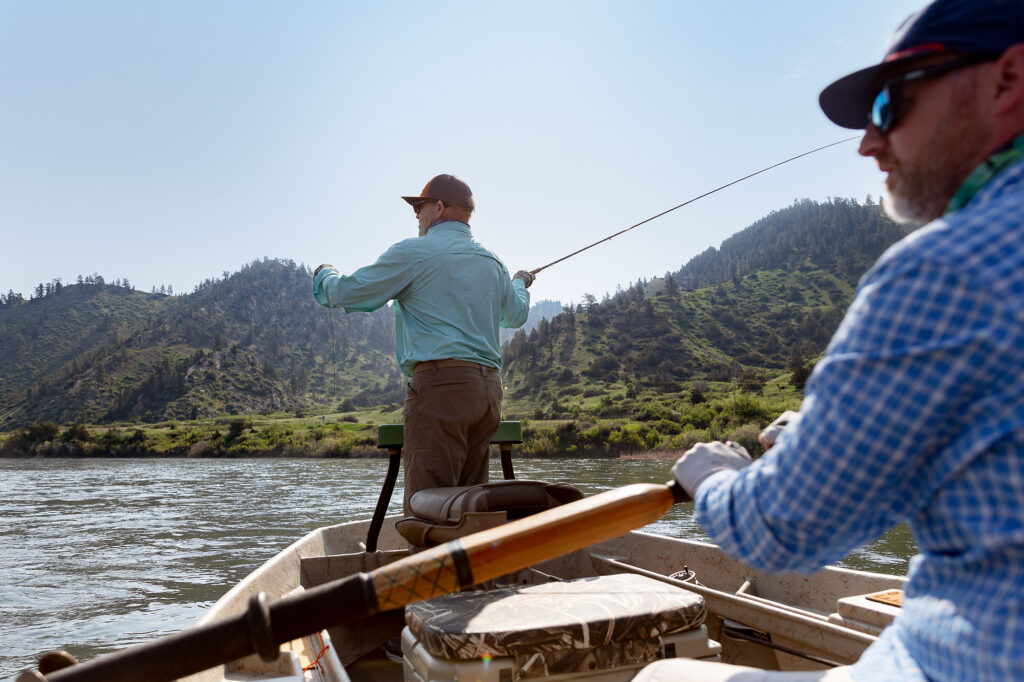 Listen to Your Guide: Your guide's goal is to help you catch fish. Listen to their advice and follow their instructions to the best of your ability.
Make shorter casts: When fishing from a boat it's important to make shorter casts, especially when nymphing. The boat is moving downstream, so long casts are unnecessary and can be difficult to manage. When fishing indictor rigs, casts of 10-20 feet are sufficient. The guide is going to position the boat to keep you close to those fishy zones. Shorter casts are also easier to manage and control, allowing you to present a drag free drift.
Let it Soak: Once you have made your cast leave it in the water. Let it soak! The longer your rig is in the water the better. The objective is long drag free drift. Your guide will be maneuvering the boat to keep your rig drifting. Trust me, let it marinate!
Cast Across Your Body: When casting from a drift boat, it's best to cast across your body. This allows you to keep the fly line away from other anglers or the gunwales. Casting across your body also allows for a safer and smoother casting motion. Anglers should vary fly rod angle depending on where you are in the boat and side of the boat you're fishing.
Mind Your Back Cast: When casting from a drift boat, it's important to be mindful of your back cast. You don't want to hit the person behind you or get hung up on the shoreline. Take a moment to check your surroundings before you make your back cast, and adjust your casting angle if necessary.
Be aware of Wind Direction: Wind can be a challenge especially when fishing on the Missouri. Be aware of the wind direction and adjust your casting angle accordingly. Casting into the wind can be difficult, so it's important to adjust your casting motion and keep your cast short.
Use a Reach Cast: A reach cast is a useful technique when fly casting from a drift boat. An aerial mend that allows you to place your fly accurately to rising fish with very little mending. This is a key component when dry fly fishing from a drift boat. To perform a reach cast, simply make a cast and move your Fly rod tip upstream allowing the line to land in front of the boat with a mend already in the line.
Vary Your Casting Angle: When fly casting from a drift boat, it's important to vary your casting angle. This allows you to cover different areas of the river and present your fly effectively to different types of water. Experiment with different casting angles and adjust your casting as needed for the river's speed and micro currents.
Practice, Practice, Practice: The key to successfully fly casting from a drift boat is practice. Take the time to practice your casting technique and experiment with different casts and aerial mends. The more you practice, the more confident you'll become. The better you become the more fish land in the net.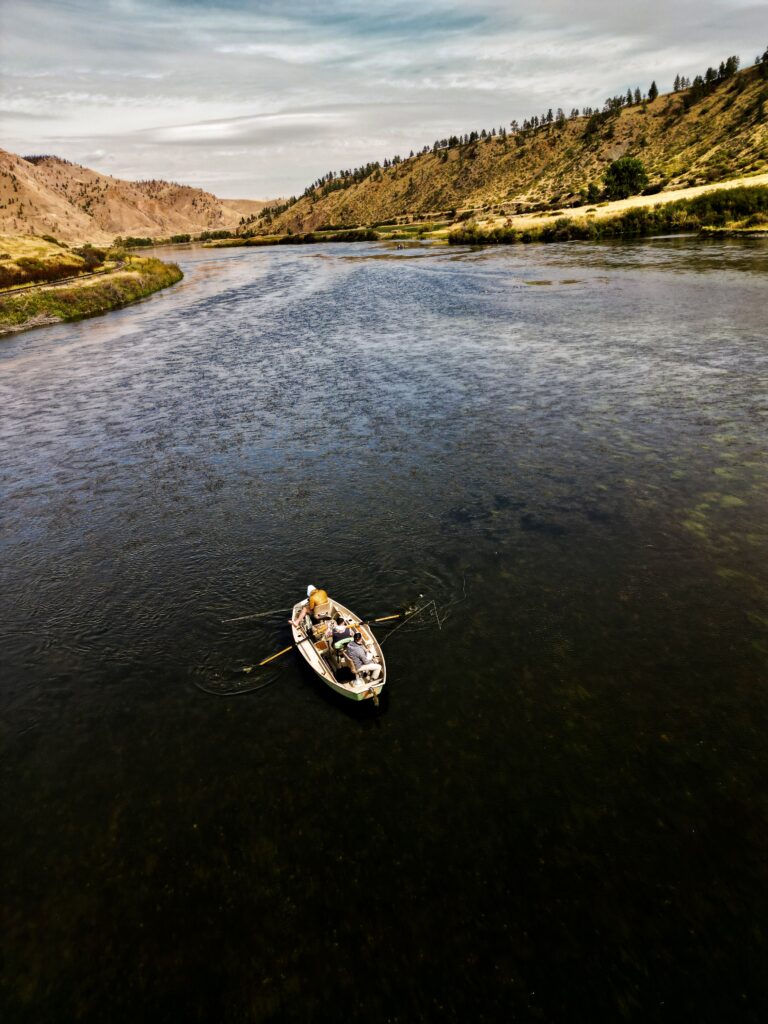 Advantages of Fishing from a Drift Boat
Fly fishing from a drift boat allows you to fish in comfort and cover a lot of water in a short time. Drift boats are equipped with comfortable seats with plenty of legroom. This means that you can fish all day without the fatigue you may experience when wading on uneven river bottom . Drifting also provides access to parts of the river that may not be accessible by wading . You Can Read more about the advantages by clicking here.
Finally, fishing from a drift boat with a professional guide affords you the opportunity to learn. Our Montana fly fishing guides log hundreds of days on these rivers every year not to mention the experience they bring from other fisheries around the world. A good guide can provide valuable advice helping you to grow as an angler.