Helena Montana is one of the best destinations in the state. The state capital has plenty of sites to see and best of all, access to the many nearby rivers and streams. Clear, cold waters and thriving fish populations, attract anglers from all over. Helena offers easy access to many of Montana's trout rivers, lakes and reservoirs.
The Missouri River, which flows just outside of Helena, is one of the top fly fishing destinations in Montana. The river is home to a variety of fish species, including rainbow trout, brown trout, and mountain whitefish. The Missouri is a large and complex river system with a series of dams, reservoirs and lakes. But with the help of a professional guide, anglers can experience some of the best fly fishing in Montana.
Fly Fishing the Missouri River near Helena
The Missouri River is a tailwater fishery, which means that the water comes from the bottom of the a dam. The water coming out of Hauser and Holter dam offers consistent temperature and flows, helping to create ideal habitat for trout. The cold water and biomass is a recipe for a true trout factory, making the Missouri River the most constant fisheries in Montana. Especially the Land of Giants Section.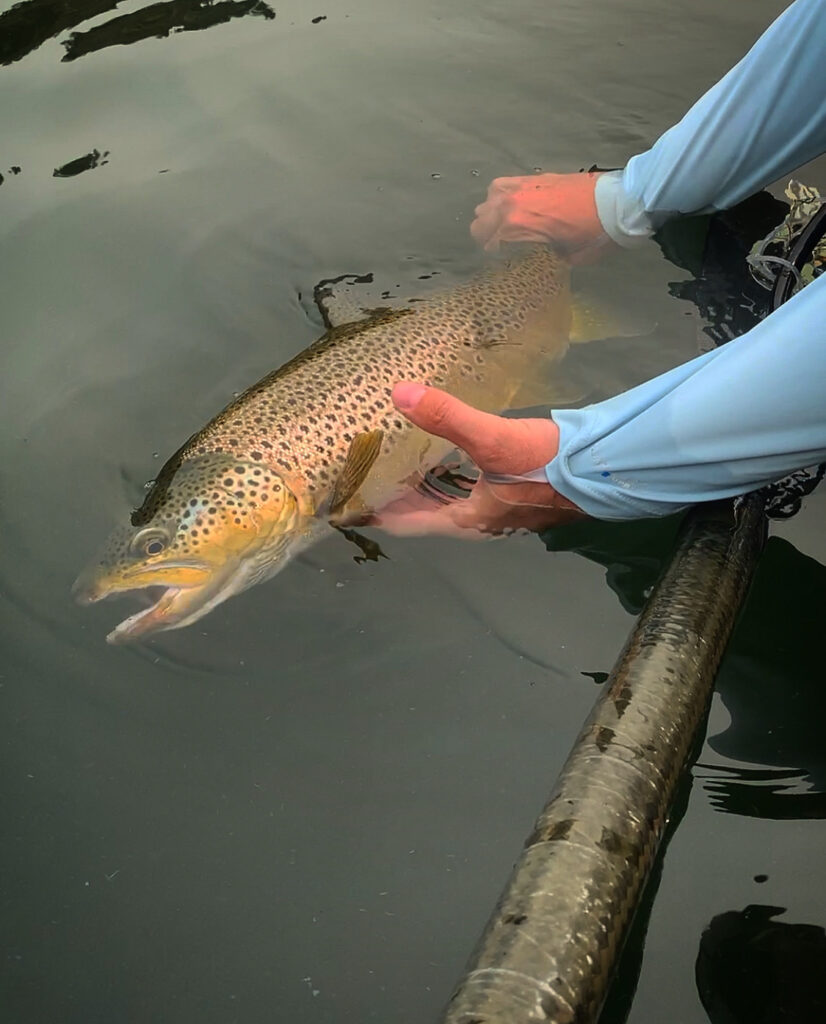 The Land of Giants
The Land of Giants section is just a short drive from downtown Helena. Guided trips depart from the Gates of the Mountains marina every morning. Jet boats make the journey up river to the best fishing grounds. This stretch of river is with out a doubt the most constant fishery in Montana. The fish that inhabit these waters can grow very large. The water flowing from the Hauser dam joining with Holter lake creates an incredible ecosystem. Teaming with insect life and Biomass bolsters incredible trout fishing.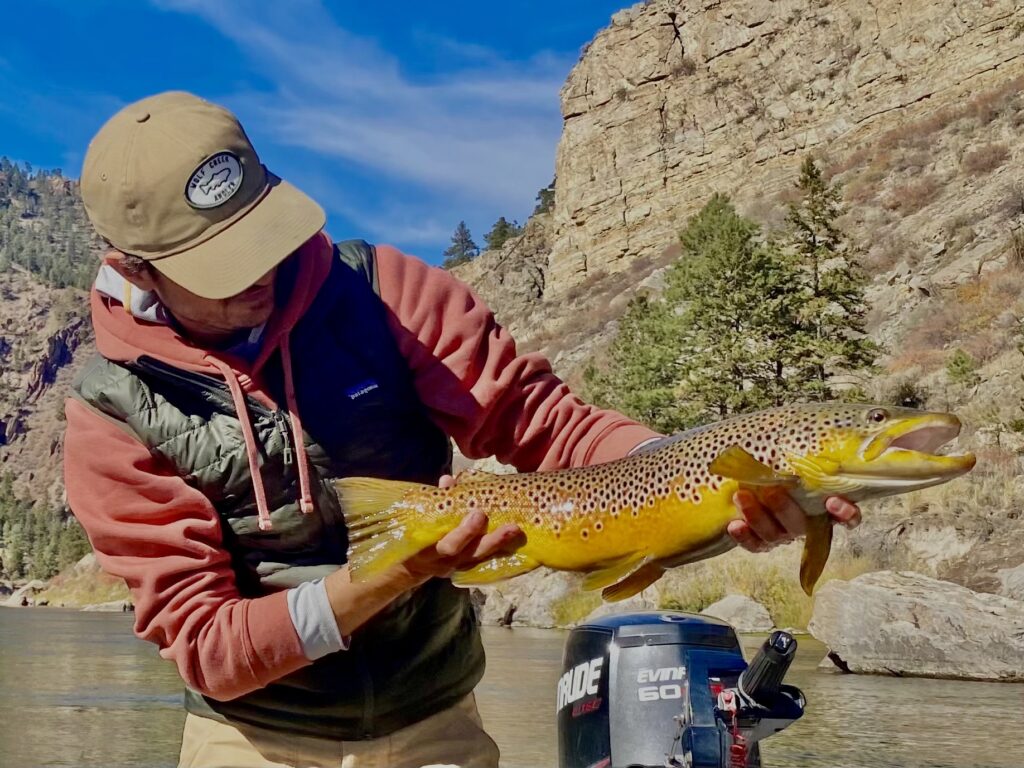 In addition to the Missouri River and the Land of Giants. Helena is also a great home base to fish several other rivers. The Blackfoot River, which is known for its vast wilderness and healthy populations of trout is a popular location for traveling fly fishers. The upper Clark Fork River located west of the continental divide flows through the historic mining town of Deer Lodge. The Clark Fork River is known for its fantastic hopper fishing and feisty trout.
Helena Fly Fishing Outfitters and Guides
For anglers who want to best experience fly fishing out of Helena Montana. Hiring a guide is highly recommended. Our guides log hundreds of days each year and have an intimate knowledge of the area's rivers, streams, and lakes. Professional guides can provide anglers with valuable tips and techniques that can not only help fly fishers improve, but also put more fish in the net.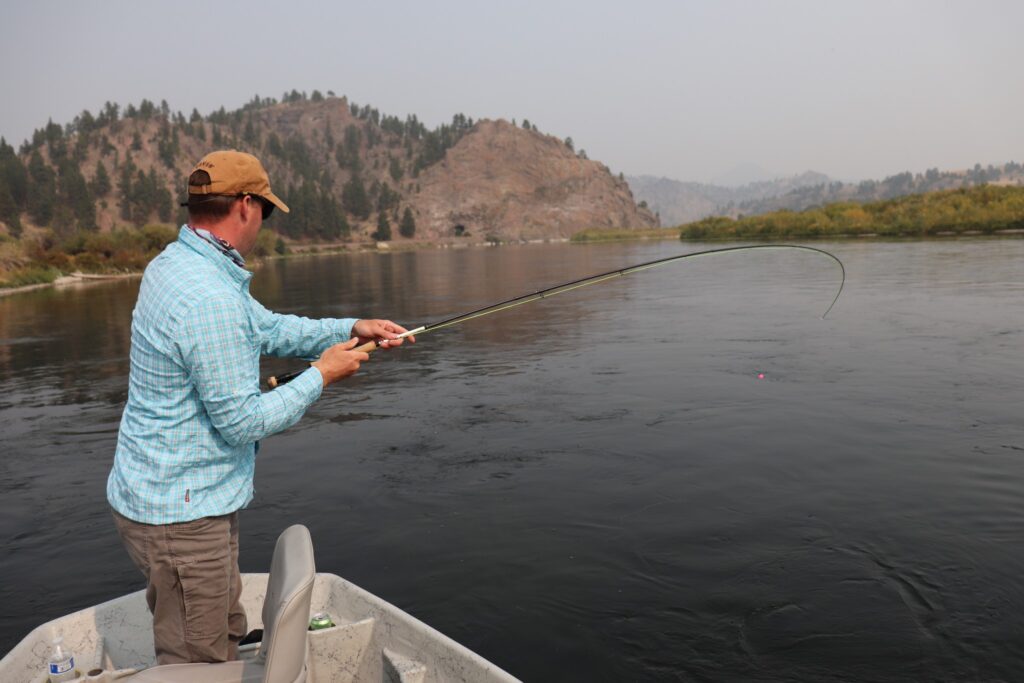 Another benefit of using an Outfitter is that all the necessary gear and equipment can be provided for your trip. This means traveling anglers don't have to worry about bringing their own gear or buying expensive equipment. Our fishing guides also provide transportation to and from the fishing location, which is especially helpful for anglers who are unfamiliar with the area.
Things to consider when Fly Fishing Helena
When it comes to fly fishing Helena, there are several things to keep in mind. First, fly fishers should always check the weather before heading out. Montana's weather can be unpredictable and it's important to be prepared for any conditions.
Finally, anglers should be respectful of the environment and other anglers. Montana's rivers and lakes are fragile ecosystems, so it's important to take care of them. If you have any questions about Fly Fishing Helena feel free to give us a call. We hope to see you on the water!