Fishing Pawleys Island and Beyond
Fishing the pristine salt marshes from Pawleys Island south to Cape Romaine.  Miles of unspoiled coastline, expansive bays, tidal creeks and inlets make up this remote stretch of coast.  Dolphin, Sea Turtles, Osprey and Bald Eagles are often seen travailing to and from the fishing grounds. It's hard to believe that just a short distance from the hustle and bustle of Myrtle Beach,  fisherman, and boaters can experience such beauty and solitude.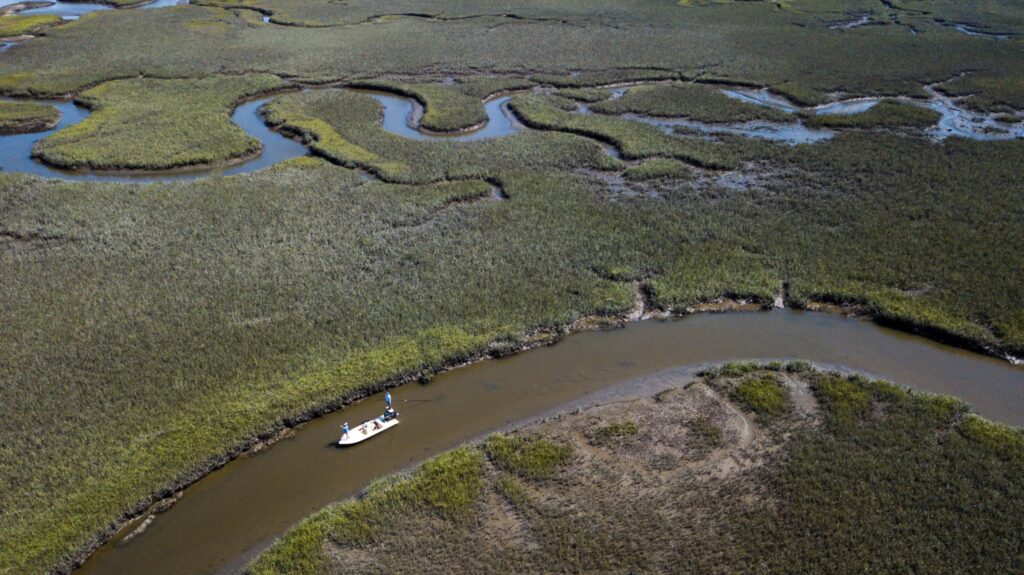 On this particular day my good buddy picked me up at my house in Pawleys Island.  With my skiff in tow we headed south on Highway 17.  Our plan was to scout some old fishing spots along the Intracoastal Waterway (ICW) with our primary target being Redfish.  As we drove south over the bridges in Georgetown the sun was burning the mist off and I felt such a sense of reverence.  We launched the skiff just south of Pawleys Island at East Bay Park in Georgetown.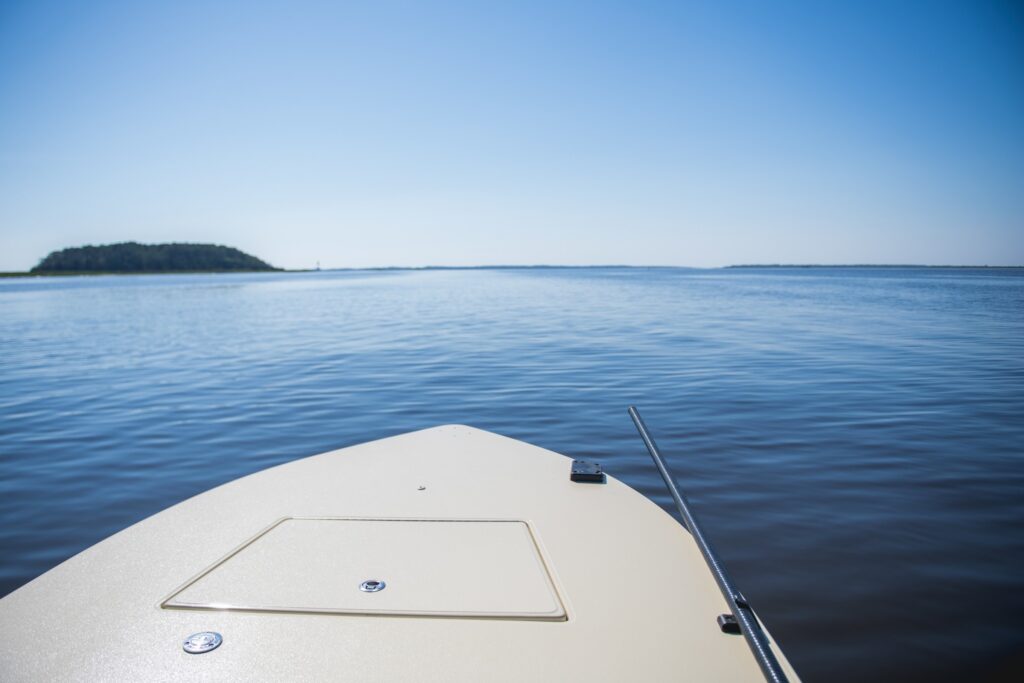 Intracoastal Waterway (ICW)
The morning sun warming our faces and high hopes of what the day may bring.  We made our way through the bay and down the ICW Finally arriving at our first fishing spot.  I was shocked how much had changed since my last trip down here.  I began polling my skiff onto a big mud flat where I could see grass shrimp in the distance popping.   As I was taking in the scenery I noticed nervous water in a creek mouth.   I told my fishing partner  "Tailing Redfish at 11 o'clock".  I spun the boat putting him in casting position.  A beautiful cast rolled and the fly landed perfect.  Two long strips and  fish pounced the fly. The water exploded and the Redfish took of running deep into the creek!  Tearing line off the reel all the way to the backing.  The fish had ripped 150 feet of fly line before he could get his hand to the drag knob.   After a short battle a healthy Redfish crossed the deck.  A few photos were taken and the fish was Released .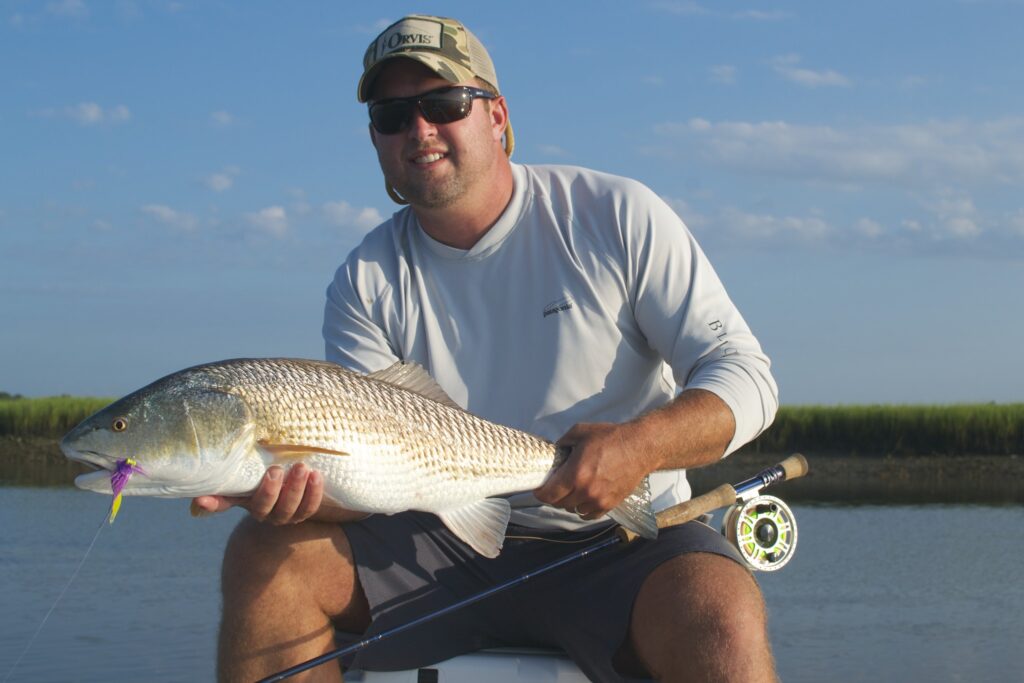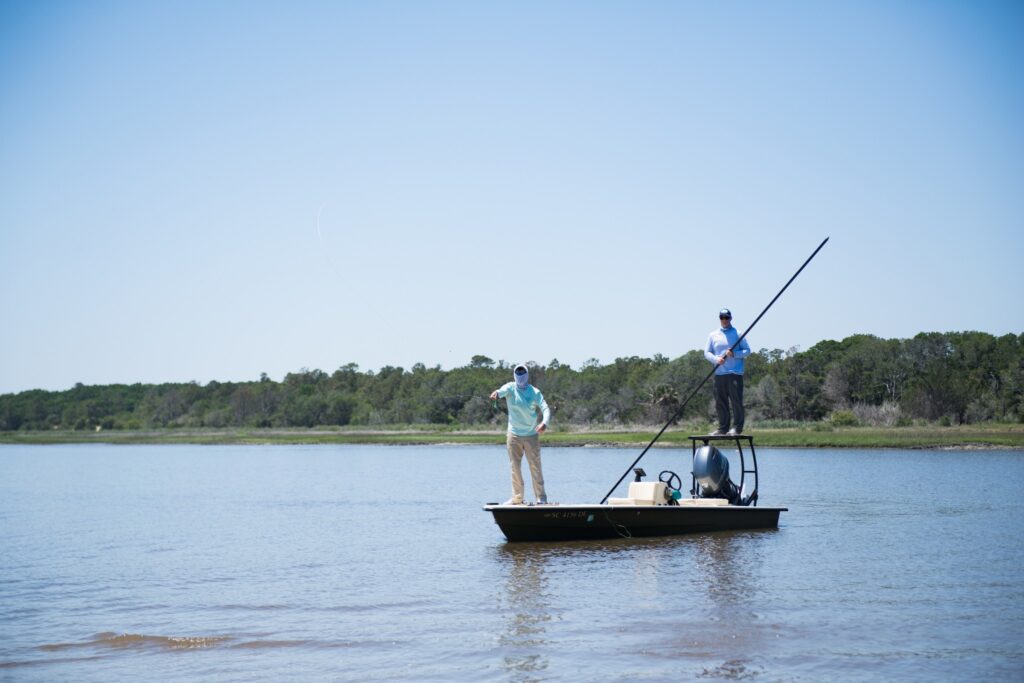 As a Fishing guide I spend more time putting people on fish than actually Fishing.
Steve offered to take the poling platform and let me fish for a bit.   I was more than happy to get some bow time for a change.  We continued up the shallow mud flat and spotted a Redfish on an oyster point. The fish was tailing and belly crawling feasting on grass shrimp and crabs.  Steve poled me into position and I piled up an ugly cast just beyond the fishes direction of travel.  I slow stripped the fly past the fish and came tight.  The battle was on! This Redfish had some girth and was putting up a serious fight on my Orvis Helios  8 weight fly rod.  The fish tiered and was brought boat side where I admired him for a moment before releasing him.  No mater how many times I see it and do it, sight casting Redfish is an exhilarating experience.  Redfish live in beautiful places and give you a fight you'll never forget.  Steve and I had both landed some nice fish and had shots at a few more.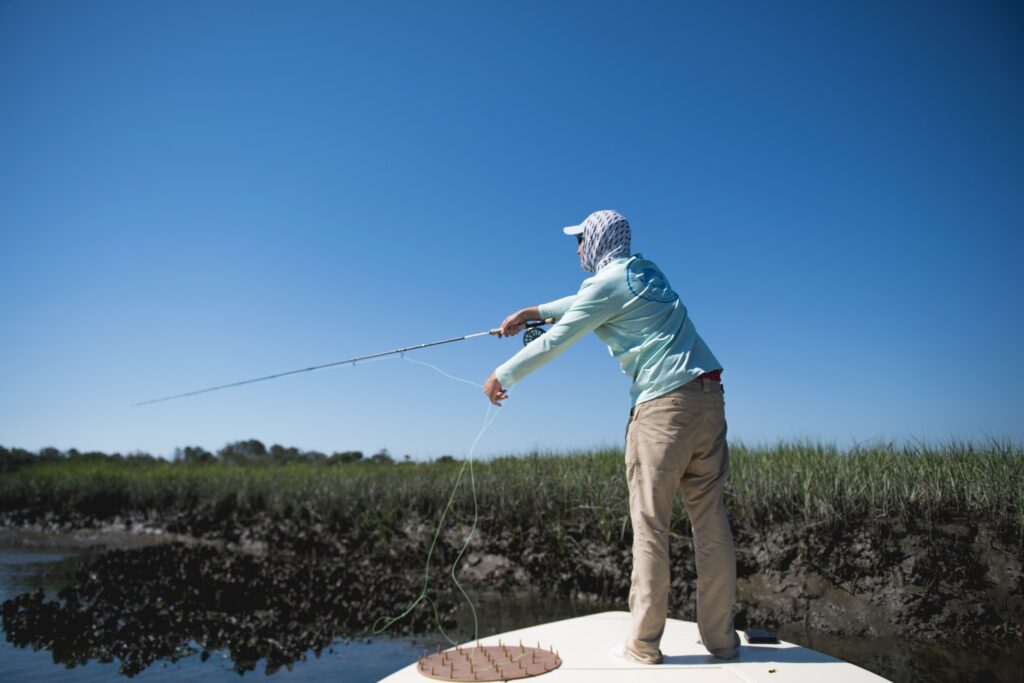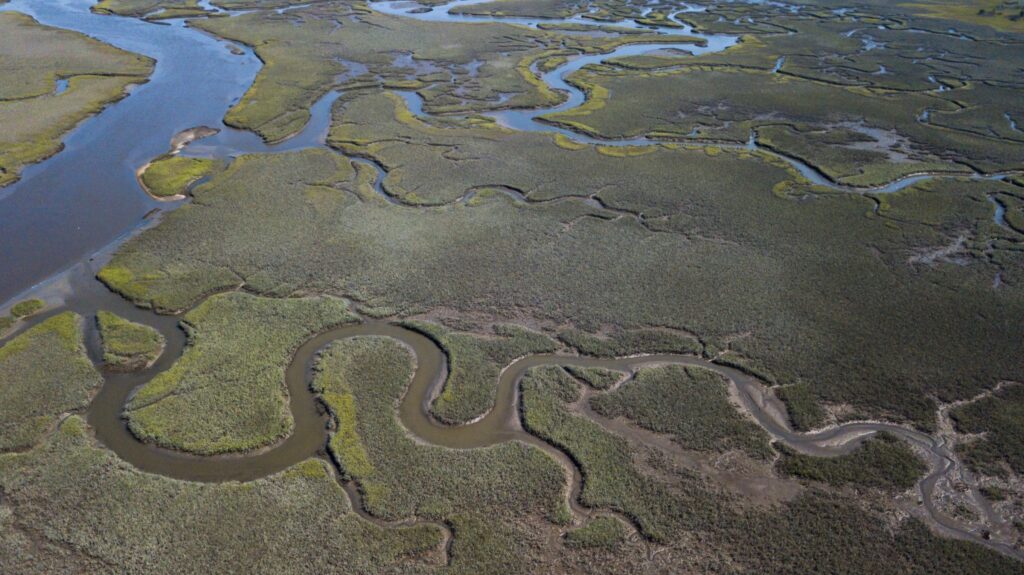 The winds came up so we stowed our rods and sat down for some lunch. We reflected on the day talking about not seeing another boat out on the water.
Till Next Tide
Captain Jeff Lattig