Salt Water Fly Fishing Pawleys Island
When fly fishing the Pawleys Island area choosing the rightFly Pattern can make all the difference.  It can be confusing with so many patterns to choose from.   My good friend and fishing buddy Mark and I enjoy talking about and tying Saltwater flies. Most conversations are about fly patterns, colors and their effectiveness on different saltwater fish.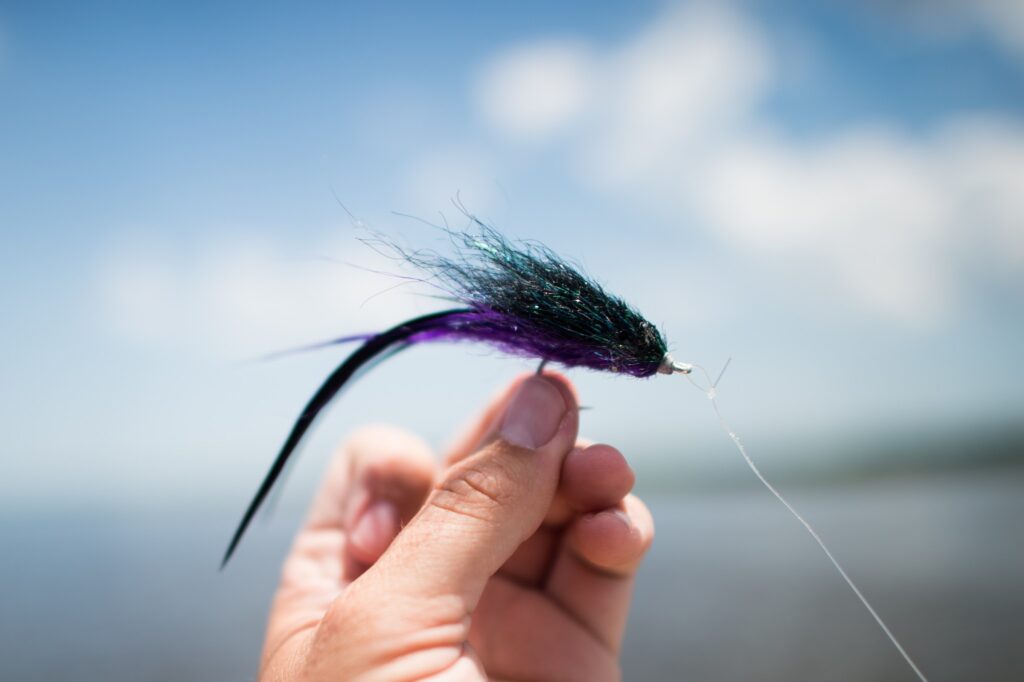 For the past few months Mark has been raving about a fly he has been working on called the Kinky muddler.  Mark had been sending text message photos of Redfish he was fooling using his version of the fly.  With all the hype I had to try them.  
The Kinky Muddler for 

Saltwater Species

The Muddler has been around many years.  The fly began as a simple sculpin imitation for trout and Small Mouth bass but has gained popularity in saltwater communities.  Since the inception of this fly I have seen dozens of variations in color, size and material.  Mark keeps his simple and ties his with Kinky fiber and craft fur but adds a key ingredient for the Redfish version.  He ties it as a bend back with keel weight.  This forces the fly to ride hook up and sink at the perfect rate for floating or tailing fish.  The kinky muddler looks like a small finger mullet or mud minnow and is incredibly effect.  This fly pattern has become my go to for sight fishing Reds.  Laid up fish, ailing fishing and floating fish. It lands soft and moves some water when slow stripped.
 I began testing this fly in late spring on some of my charters. The time of year when finger mullet begin showing up in Pawleys and Debordieu Creek.  When I first put this fly in the water the action and undulation was remarkable.  The way the fly moves and breaths is like nothing I have seen and I feel this is what triggers the bite.  Late spring and early summer Redfish can be very tough to fool with fly gear due to the abundance of bait in the marsh.  Marks Kinky Muddler has changed the game for me and my clients!  Saltwater fish like Flounder, Speckled Sea trout and Lady Fish have shown a lot of interest in this fly!  The Kinky Muddler is a proven winner and is my go to for Fly Fishing Pawleys Island. The Muddler is the first fly out of my box on guided fishing charters.