Montana is renowned for its breathtaking landscapes and abundant wildlife, making it a dream destination for outdoor enthusiasts. Among its many attractions, the small town of Craig holds a special place in the hearts of hard core fly fishers. Nestled along the banks of the mighty Missouri River, fly fishing around Craig offers a unique angling experience that draws fly anglers from all corners of the globe.
The Mighty Missouri River
The Missouri River is the lifeblood of Craig's fly fishing scene. Stretching over 2,300 miles, it is one of the longest rivers in North America and is known for its excellent trout fishing opportunities. Craig sits in the heart of the Missouri's blue-ribbon trout section, which boasts an impressive population of wild rainbow and brown trout. With its cool, clear waters and abundant insect life, the river offers the perfect habitat for these prized game fish.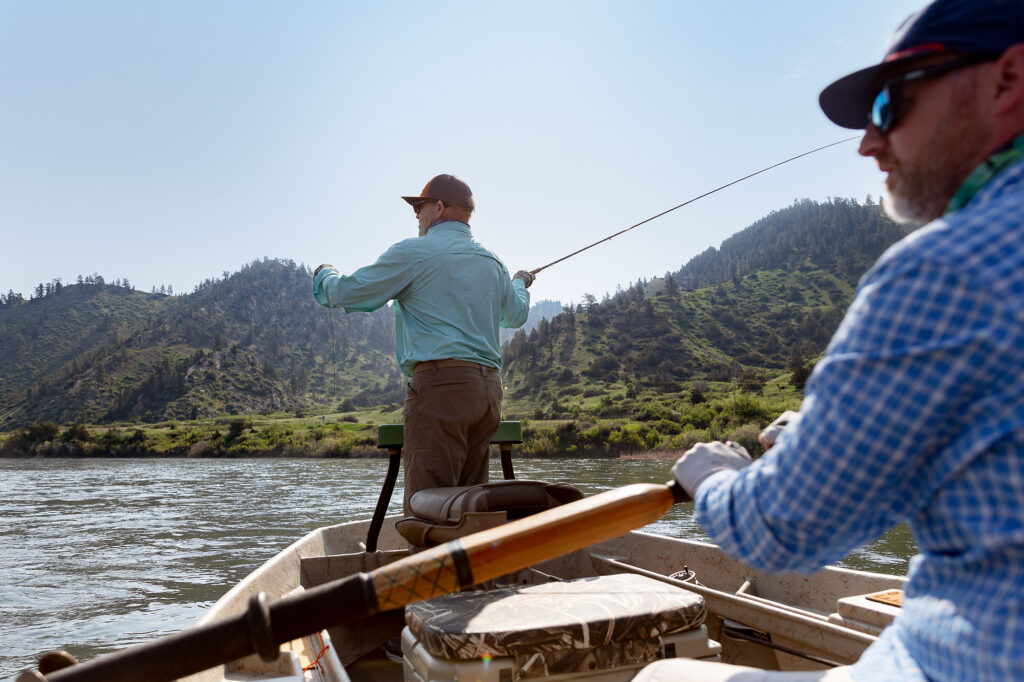 Diverse Fishing Opportunities
From mayflies, caddisflies,trico's and midges, the river teems with a rich variety of insect life throughout the year. One of the many reasons fly fishers flock to Craig. Whether you prefer wading in the side channels, floating the river in a drift boat, or casting from the comfort of a riverbank, Craig has it all. The Missouri River's varied sections provide different fishing experiences, from riffles and deep pools to serene stretches with gentle currents. No matter your skill level or fishing preference, you'll find it in Craig.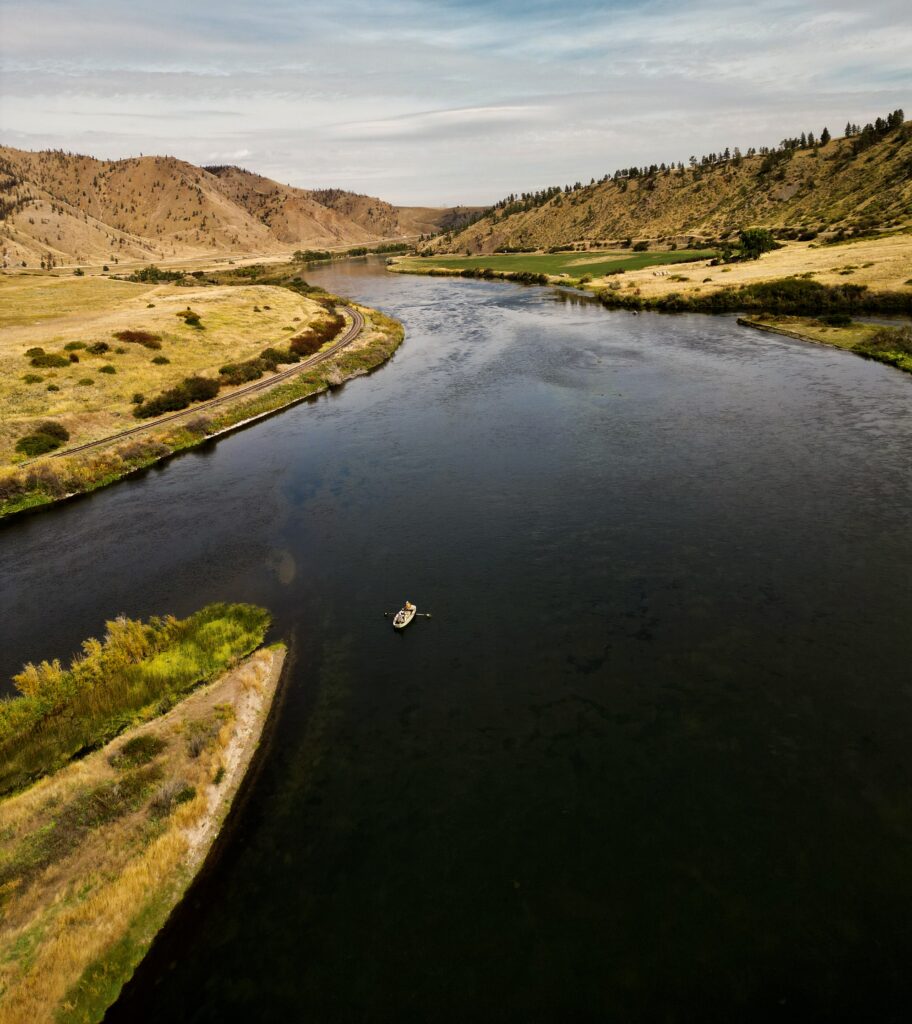 Spring and Summer Hatches on the Mo
Caddis Hatch: One of the most anticipated fly hatches in Craig is the Caddis hatch. The river comes alive with thousands of caddisflies around June, providing a feast for hungry trout. Anglers can expect to witness frenzied surface activity as trout rise to feed on these fluttering insects. Matching the hatch with caddisfly patterns can yield fantastic results, with dry fly fishing being particularly exciting during this time.
Pale Morning Dun Hatch: As spring transitions into summer, the Pale Morning Dun (PMD) hatch takes center stage when Fly fishing in Craig. This hatch typically occurs in June and lasts throughout the summer months. PMDs are delicate mayflies that emerge in large numbers, creating a visual spectacle on the water. These hatches attract trout in abundance, and anglers can enjoy exhilarating dry fly action. PMD patterns, such as Parachute Adams and Sparkle Duns, are effective imitations to entice selective trout during this hatch.
Trico Hatch: For the early risers, the Trico hatch provides an exciting opportunity for morning fishing during late summer. Tricos are tiny mayflies that hatch in large numbers, creating a cloud-like presence on the water's surface. This hatch usually occurs in August and September and can challenge even the most skilled anglers due to the trout's selective feeding behavior. Matching the tiny Trico patterns can be rewarding, and delicate presentations are crucial to fool wary trout during this hatch. Casting other dry flies at Trico eating fish can also yield big rewards. Make the first cast count!
Blue-winged Olives (BWOs) dominate the early season, providing excellent opportunities for anglers. When it comes to BWOs, patterns like Parachute Adams, film critics and RS2s in sizes 16-20 are reliable options to imitate these mayflies.
Hopper and terrestrials – Hoppers, micro chubbies and ants can be great options during the dog days of summer. Chubbies in purple, peach and royal are solid options when throwing dry droppers on the Mo.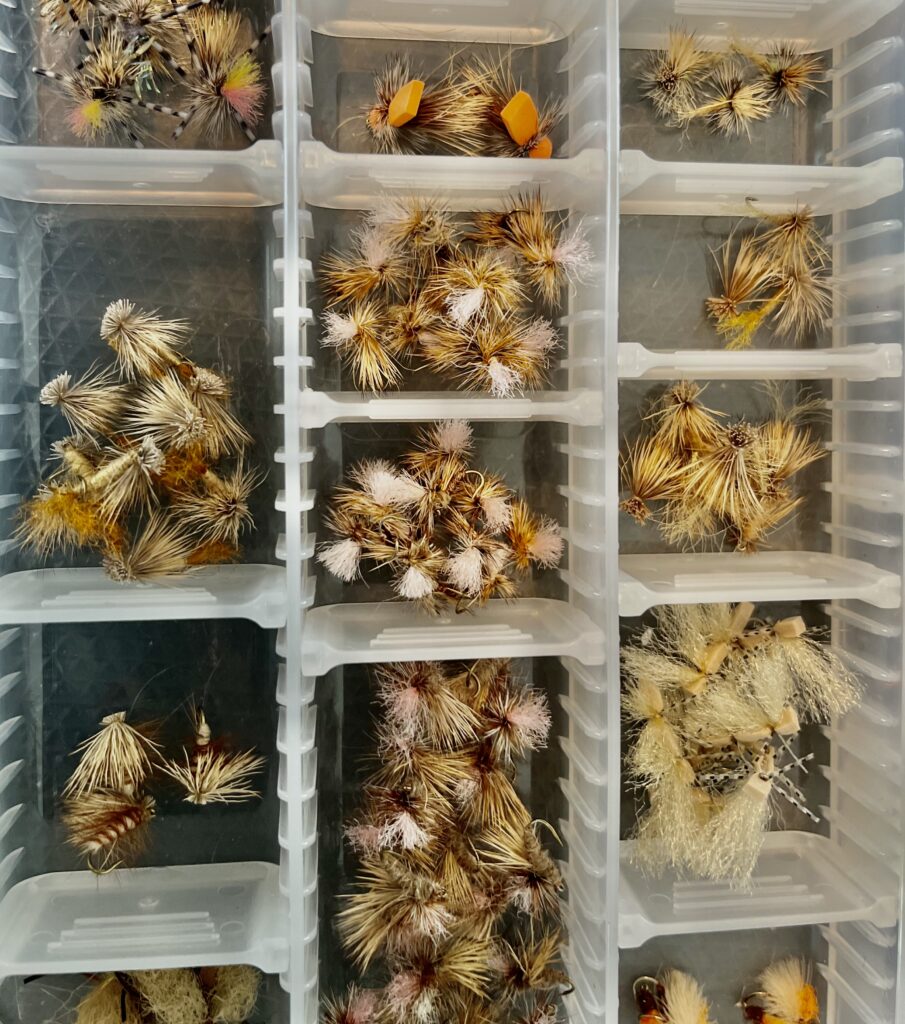 Fall Hatches on the Missouri River
As autumn sets in, the cooling temperatures bring about a new set of hatches in Craig. Blue-winged Olives continue to be prevalent, providing consistent fishing opportunities. Baetis patterns such as RS2s, JuJu baetis, two bit hookers and Barr's Emergers are great choices. Additionally, Hoppers can still be in play and October Caddis become prominent. October Caddis patterns like small chubbies, Stimulators a 8-12 are worth trying.
Winter Fishing in Craig
Despite the colder weather, winter fishing in Craig can be rewarding. Midges continue to hatch, making them a staple food source for fish during this time. Patterns such as Zebra Midges, WD-40s, and Griffith's Gnats in sizes 18-22 are reliable choices. It's important to present these small flies with delicate presentations to entice fish in the slower winter currents.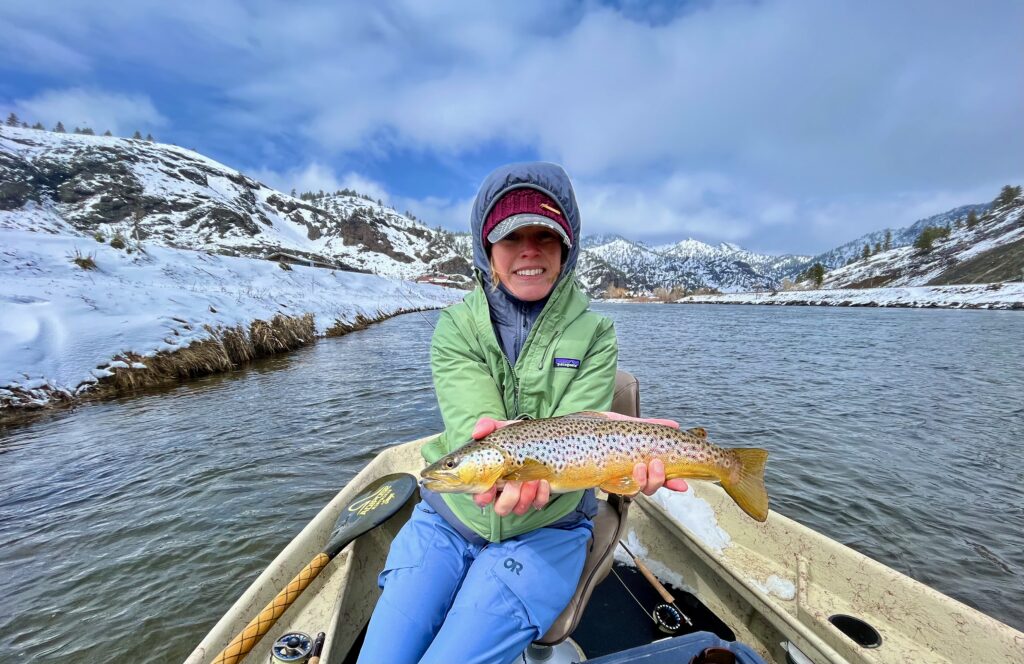 For those seeking expert guidance or looking to enhance their fly fishing skills, Craig boasts a wide array of professional guide services. These experienced guides possess intimate knowledge of the river, including its prime fishing spots and the most effective techniques. Whether you're a seasoned angler or a beginner, hiring a guide can greatly enhance your chances of success and ensure a memorable fishing adventure.
Community and Hospitality
One of the most endearing aspects of fly fishing in Craig, Montana, is the warm and welcoming community. The town's small size and close-knit fishing community foster a sense of camaraderie among anglers. Local fly shops, lodges, and eateries offer a friendly atmosphere and are always eager to share fishing tips and stories. The hospitality of the people in Craig adds an extra layer of enjoyment to your fishing trip, making it an unforgettable experience.
Fly fishing in Craig, Montana, is a true angler's paradise. With its picturesque setting along the Missouri River, diverse fishing opportunities, prolific insect hatches, it offers an unforgettable experience for all who visit. Whether you're a seasoned angler or new to fly fishing, Craig's beauty and abundance of trout make it an exceptional destination. So pack your gear, head to Craig, and immerse yourself in the wonders of fly fishing in this Montana gem. For more information about Fly Fishing Craig gives us a call, we would love to hear from you.