Flounder Fishing
Flounder Fishing Pawleys Island is part of the culture! During the warmer months you see families flounder fishing from docks and causeways. Southern flounder begin moving in from deeper nearshore reefs into tidal creeks and as the water begins to warm. Pawleys Island Flounder will thrive and spawn in our marsh and inlets until late fall when the water begins to cool.
Flounder Fishing Tactics
These flatfish are ambush predators and often use shallow water creeks, oyster rakes and depressions as ambush points. Laying on the bottom and using their camouflage and tides to ambush shrimp, mud minnows and finger mullet. One of the most popular and productive ways to catch Flounder is slow trolling with live baits and artificial baits. Mud minnows and finger mullet are great choices fishing alongside the rock jetties on the North Side of the Island. In addition to trolling, fan casting creek mouths and docks with soft plastics can be very effective. North and South Inlets are great areas to target big flounder as they like the high devolved oxygen of the moving water.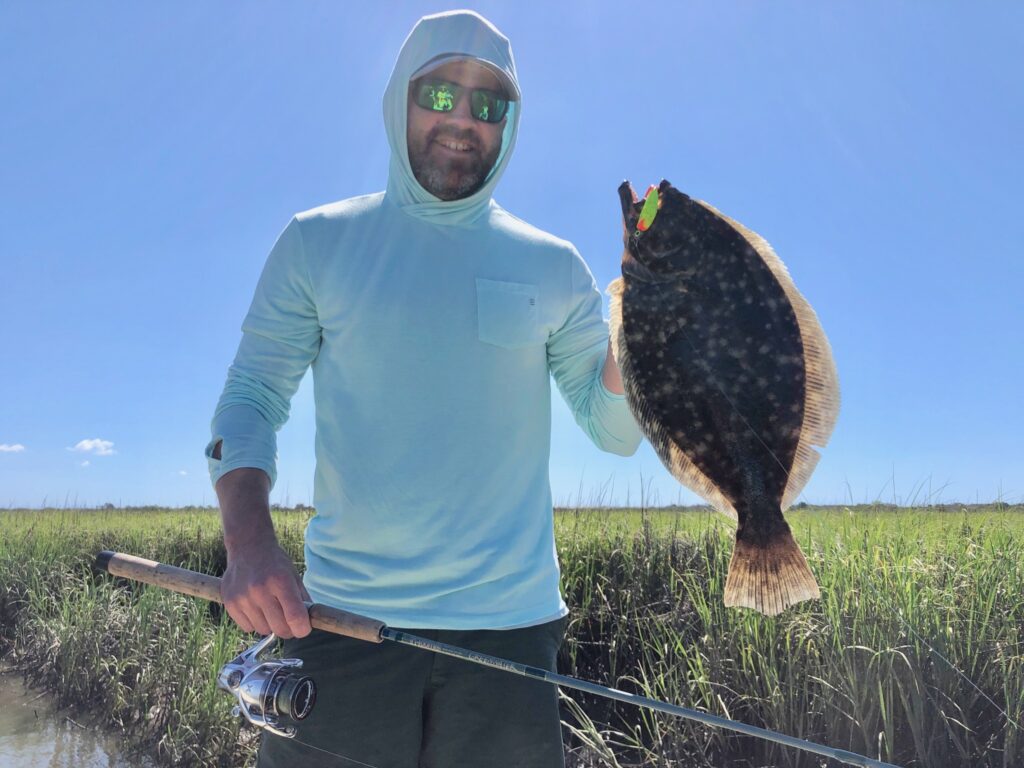 Pawleys Island Flounder Fishing with Light Tackle
I prefer a spinning rod. 7 '6 light to medium action paired with a 3000 size reel loaded with 15 pound braided line. From the braid I use a 20 pound fluorocarbon leader tied using a uni to uni knot. From my leader I tie a 1/4 oz eye strike JIG HEAD using a loop knot. The chartreuse color jig rigged with a 3″ gulp swimming mullet is my favorite combination for Pawleys Island Flounder. Casting deep into a creek mouth or beneath a dock and slowly dragging and popping the bait along the bottom . Another key point is to watch the current and tide. If the current is running hard be sure to change to a heavier jig and fish up current bouncing your bait down with the tide.
Flounder Fishing Pawleys Island with Fly fishing Gear
Fly rods from 7 – 8 weight is your best choice. Reels loaded with floating or sinking lines, sinking being the preferred for bottom dwellers like Flounder. If you don't want to invest a lot of money in a full sinking line, take a look at Rio's Versa Leader . These leaders can be purchased for under $12. These leaders offer a lot of versatility with the simple loop to loop connection. The versa leader has a PVC coating that adds weight. It's offered in a 1.5 – 7 inch per second sink rate . The 3.9 and 5.6 are my top choices for flounder and Sea Trout fishing. Fly selection is simple. Bait fish patterns like the Clouser Minnows tied in chartreuse. Here's a link of my Top Picks for Fly Fishing Saltwater species like Flounder.
Overall the method you choose to deploy when Flounder Fishing Pawleys Island will be dictated by the tide, current and time of year. Flounder are a fantastic table fair and Pawleys island holds good numbers of fish during the spring run. To learn more about targeting Southern Flounder feel free to give us a call. I hope to see you on the water!