Montana, often referred to as the "Last Best Place," is a fly fishing paradise that attracts anglers from around the world. With its crystal-clear rivers, majestic mountain landscapes, and abundant fish populations, Montana offers endless opportunities for fly fishing. One of the most rewarding ways to experience the state's incredible fly fishing is through wade fishing.
The Essence of Walk and Wade Fly Fishing
Walk and wade fly fishing involves immersing oneself in the river, stepping into the water and maneuvering through the currents and shorelines. Unlike fishing from a drift boat, wade fishing allows anglers to explore remote stretches of rivers, find secluded side channels, and experience a more intimate connection with the river. It offers a sense of adventure, solitude, and an opportunity to fully experience the beauty of Montana's blue ribbon trout streams.
Advantages of Walk and Wade Fishing in Montana
One of the primary advantages of walk and wade fishing is the ability to access areas that are otherwise inaccessible. . Montana is blessed with an extensive network of rivers, streams, and creeks. Many of the best fishing spots can only be reached on foot. By getting away from public access, anglers can discover unpressured waters.
Intimate Connection with Nature
Walking and wading through a river allows anglers to intimately connect with their surroundings. The sound of water, the feel of the current against your legs, and the sights and scents of the surrounding wilderness. This is something that can create a sensory experience that cannot be replicated from the bank. It provides a opportunity to observe wildlife up close so be sure to have your bear spray or side arm at the ready.
Walk and wade fishing offers unparalleled versatility and flexibility. Fly Anglers can adjust their approach based on the river conditions, insect hatches, and the behavior of the fish. By exploring different runs, riffles, and pools, anglers can target specific areas and adjust their techniques to increase their chances of success.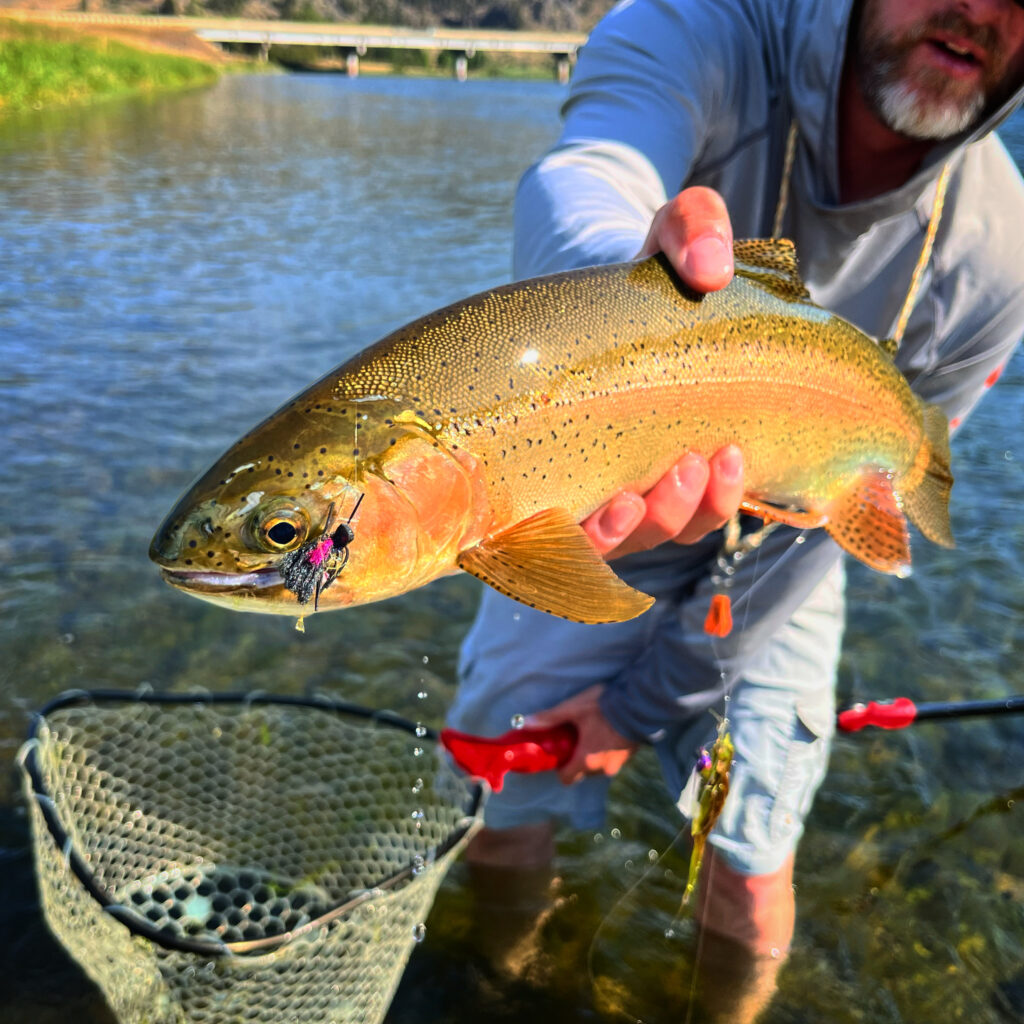 Fly Fishing Techniques for the Wade Angler
Understanding how to read the water is crucial for successful walk and wade fly fishing. By observing the flow, depth, and structure of the river, anglers can identify prime feeding and holding spots for fish. Features like riffles, runs, eddies, and undercut banks are all worth exploring. Stealth is key when wading through a river. Fish can be easily spooked by disturbances in the water. Moving slowly and wearing muted clothing can help minimize disturbances and keep the fish unaware of your presence. Once in casting range, employing accurate and delicate presentations is crucial. Selecting the right fly pattern, and achieving a good drift can greatly increase the chances of enticing a strike.
Nymphing and Dry Fly Techniques
Montana rivers offer excellent opportunities for both nymphing and dry fly fishing. Nymphing involves fishing subsurface with imitations of aquatic insects and is particularly effective when fish are not actively rising. Using indicators or tight line techniques like Euro nymphing can help detect subtle strikes. Dry fly fishing on the other hand is the epitome of fly fishing, allowing anglers to present flies floating on the water's surface. Both techniques have their time and place, and being flexable can lead to a rewarding fishing experience.
The Best Walk and Wade Fly FishingRivers in Montana
Beginning in Yellowstone National Park at the confluence of the Firehole River and Gibbon River near Madison Junction. From there, it flows westward out of the park and continues its journey through southwestern Montana before it eventually joins the Jefferson River. Known for the "50-mile riffle," the Madison River offers unparalleled wade fishing opportunities. Its consistent flows, water temperatures, diverse aquatic insects, and healthy trout populations make it a favorite among fly anglers. Sections like the "Three Dollar Bridge" and the "Varney Bridge" offer excellent access points for wade fishing the Madison.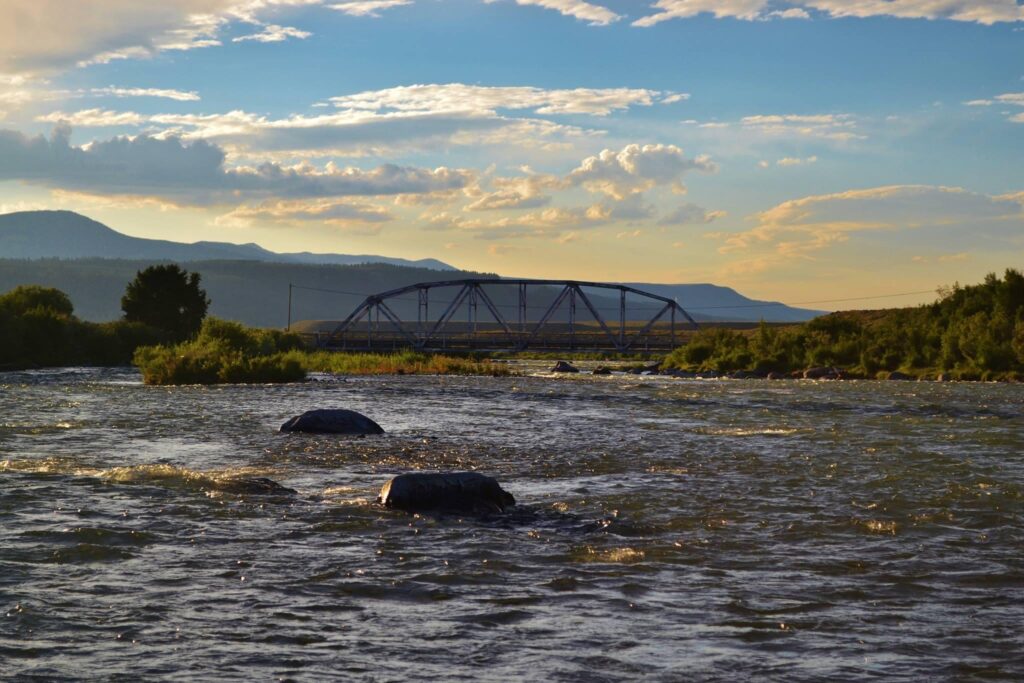 The Yellowstone River is one of the longest free-flowing rivers in the United States. It begins in Yellowstone National Park, primarily from the convergence of the Yellowstone and Lamar Rivers near the park's southeastern boundary. The river then flows north through Wyoming, Montana, and North Dakota before joining the Missouri River in western North Dakota. The confluence of the Yellowstone and Missouri Rivers is located near the town of Williston, North Dakota. In total, the Yellowstone River spans approximately 692 miles (1,114 kilometers) from its headwaters to its confluence with the Missouri River. Yellowstone river provides anglers with a vast playground for walk and wade fishing. Its varied water types, breathtaking scenery, and healthy populations of brown, rainbow, and cutthroat trout make it a must-visit.
Gallatin River
The Gallatin River begins in the northwest corner of Yellowstone National Park, near the boundary with the state of Wyoming. It originates from several small streams that flow out of the park's high mountain peaks. From there, it flows northwest through Montana, passing through Gallatin Canyon and the town of Big Sky. The Gallatin River continues its journey northward, eventually joining the Madison and Jefferson Rivers near Three Forks, Montana, to form the Missouri River. A picturesque river offering excellent walk and wade fishing opportunities. Known for its pocket water, deep pools, and fast runs, the Gallatin River provides a diverse range of fishing experiences. It is an ideal destination for both novice and experienced anglers alike. The Gallatin valley does get a fair amount of fishing pressure.
Starting from its headwaters near Three Forks. The most renowned section is the "Missouri River Tailwater," which begins below Holter Dam near Craig. Extending downstream for about 35 miles to Cascade. The Missouri River is known for its healthy populations of brown trout and rainbow trout and prolific hatches. It's advisable to check the river's flow conditions before planning your trip.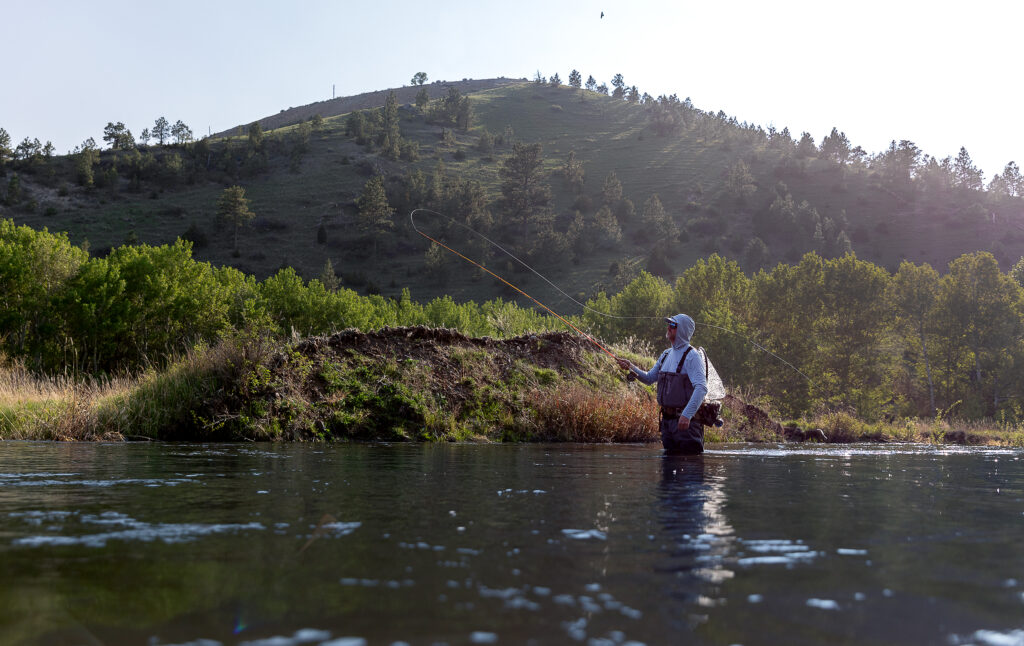 Walk and wade fly fishing in offers an angling experience that combines adventure and solitude. Accessing remote areas anglers can immerse themselves in the beauty and serenity of Montana's rivers. By practicing stealth, studying the water, and employing various techniques, anglers can increase their chances of success. Whether it's the Madison, Yellowstone, Missouri or the Gallatin, Montana's trout streams are waiting to be explored by those seeking a fly fishing adventure in big sky country. Be sure to read the Montana fishing regulations before you adventure out here.